Having access to an untapped talent pool, getting them at a good price point and becoming a premier employer were the main reasons for global off shoring firm MphasiS choosing Sri Lanka for its newest facility, according to the company's Chief Human Resource Officer R. Elango. Speaking to the Business Times recently, he revealed that his biggest cost was that of employability or, put in laymen's terms, how many weeks to train people to start performing. A number which had initially been 16 weeks but which over time had fallen to 12 weeks currently.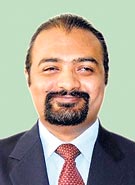 Chief Human Resource
Officer R. Elango
Mr. Elango also noted that so far his company's local experience had been positive, elaborating that the company had already racked up 12,500 hits on its website which carried details of 150 to 200 local positions to be filled as part of its initial ramp-up. A situation which also led to 2,000 applicants being short-listed.
With initial expectations of hiring these 150 to 200 Sri Lankans to help build IT infrastructure capacity locally, while also setting the local worker atmosphere (or DNA, as he calls it); MphasiS's immediate term plan for the country was to ramp up to 500 over the next six to nine month, by way of its investment of US$ 3.5 million. Meanwhile, Mr. Elango also suggested that so far local operations were on schedule to go live by July 15, an event soon be followed by 500 more hires based on referrals -- all of which would lead to a 2,000 staff strength in three years.
A US$ 950 million revenue company comprising 36,000 staff in 12 different countries and 29 offices worldwide as well as delivery centres in India, China, South America and Europe; the most recent financial results for MphasiS have been "phenomenal" as per the company's last full year financial statement in October 2009, according to Mr. Elango. He also noted that the company's cash balance rose from a low of US$ 5 million during the period of the global financial crisis to US$ 200 million at the end of the last financial year. A situation which he attributed to an employee pay freeze put in place just a year before. Additionally, he noted that this pay freeze was rectified as soon as the company recovered and all employees were "recompensed".