Rohan Somawansa,General Manager (Marketing) at the DSI Samson Group was recently inducted as the new President of the Sri Lanka Institute of Marketing for 2010/2011.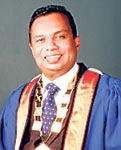 Rohan Somawansa
With 20 years of marketing and sales experience, Mr Somawansa has held several senior management positions during his career.
He qualified from the Chartered Institute of Marketing with a Post Graduate Diploma, and from the Asia Marketing Federation with the Certified Professional Marketer Status. He also has DBFA from the Institute of Chartered Accountants (Sri Lanka).
A SLIM press release said that one of his main objectives for the year is to get recognition for marketing by producing better quality marketers who can contribute in the Board Room.