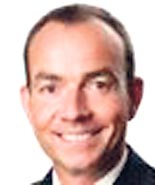 Martin Rinck
Martin Rinck, President Asia Pacific, Hilton (Hotels), visited Sri Lanka this week for the first time on a 2-day observation tour on an invitation extended by Colombo Hilton's owning company, Hotel Developers Chairman Navaz Rajabdeen.
He told the Business Times that Mr Rinck had said that Hilton International is interested in managing a beach resort outside Colombo following the restoration of peace in the country.
At a meeting with Colombo Hilton management, Mr Rinck emphasized the importance of well-planned sustainable tourism creating a least negative impact in the beach resort area and bringing together all stakeholders, Mr Rajabdeen said. The visit by a top international hotelier is very significant as Sri Lanka is now attracting more tourists.