Panadol, a brand of paracetamol marketed by GlaxoSmithKline Consumer Healthcare - Sri Lanka, recently extended its partnership with the Sri Lanka Medical Library.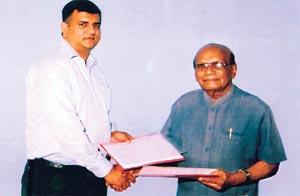 Picture shows Sachi Thomas, Managing Director of GSK Consumer Healthcare (lebt) exchanging the MoU with Prof. W S E Perera, President of Sri Lanka Medical Library.
The company said that Panadol has been the sole private sponsor of the library for over 10 years since 1998.
The Sri Lanka Medical Library, is the oldest such establishment in South East Asia and dates its roots back to 1844.
Today, with a membership roster in excess of 2800, the library caters exclusively to qualified medical practitioners and is conveniently located in Wijerama Mawatha, Colombo 7, at the doorstep of the island's medical fraternity.
The renewed partnership between Panadol and the Sri Lanka Medical Library will see the extension of a catalogue computerization project, the inclusion of Internet facilities and critical infrastructure improvements such as modern wall paneling and uplibting of the exterior.