No considerable impact has been seen on the number of tourist arrivals recorded in April 2010 due to disruption in flights to and from Europe resulting from the volcanic ash in Iceland although the industry expected to see some sort of reduction.
President of the Tourist Hotels Association of Sri Lanka (THASL) Srilal Miththapala told the Business Times that tourist arrivals for April 2010 totaled 38,300, almost a 47% increase in comparison to April 2009. Most regions indicate a very strong increase with the Middle East showing the largest, increasing by over 100% in April 2010 compared to the same month last year.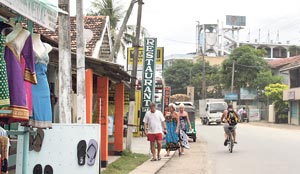 Pic shows tourists in Hikkaduwa
Mr. Miththapala said May and June are low season months and occupancy levels are bound to reduce. He added that the upcoming football World Cup in South Africa could also have some impact on European arrivals since some segments of European travelers cold opt to attend the World Cup rather than take a holiday in the tropics.
On a cumulative basis the arrivals for January to April 2010 are close upon 200,000, which is very high being a 50% increase compared to the first four months of 2009. Mr. Miththapala said all markets including Western Europe, Eastern Europe, the Middle East, East Asia and South Asia all recorded a healthy increase ranging from 20% to 100%.
However, he said it is important to remember that the first few months of 2009 was possibly the worst period for Sri Lanka tourism when the war was at its most ferocious stages. Therefore, comparing the performance of 2010 to 2009 may not give a proper indication of the growth, and perhaps it would be better to compare with the first 4 months of 2004, which was during the cease fire when tourism did quite well.
This analysis indicates that arrivals for 2010 have in fact surpassed the first four months of 2004 by 22%. Even for the month of April, Mr. Miththapala said there is an increase of 25% when compared to 2004. Therefore, this further indicates that the growth in 2010 has been quite strong and sustained.