She leaves a legacy of children's joy and laughter
By Madhubhashini Disanayaka Ratnayake
Somalatha Subasinghe
View(s):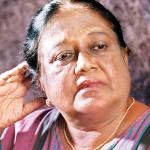 These things I remember: children rolling in the aisles in laughter; a child barely able to walk asking endless questions from the mother – endless endless endless questions of relevance and sharpness as a fascinating story unfolded on stage; eyes openin in wonderment at dancing flowers, talking trees, flitting fairies, prancing monkeys as the fantasy world of any child turned true within his or her arms length.
These things I remember: an elderly lady on an aisle seat unexpectedly joining in the laughter of children; a serious and no nonsense face turning around at the eager child and smiling; an absolutely straight backed figure standing as the unmoving center while children's dreams twirled around it in merriment and abandon.
If I remember anything about the drama of my childhood, it belonged to this serious, straight backed, no-nonsense-except-the-truly-childish-absolutely-meaningful-nonsense lady, Somalatha Subasinghe. If my children and those of a thousand others had any link with Sinhala theater, it was through her. We grew up and matured enough to realise how much we owe her, our own Sinhala fairy tale maker. But before our children are lucky enough to do so, she is gone, for Somalatha Subasinghe passed away in the morning of May 30.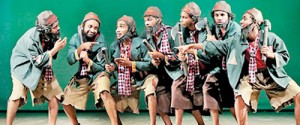 We are greatly diminished. It marks the end of a great woman – also an ending of an institution.
But like all great people, she made sure that she leaves behind her legacy and people to carry it on. Through her daughter, Kaushalya Fernando and her son-in-law, Dr. Chandana Aluthge, her school of drama which has brought out so many now-famous names in theater, continues as the Lanka Childrens and Youth Theater Foundation, also known as Playhouse Kotte. It is to her we owe the emergence of artistes like Chandani Seneviratne, Prasannajith Abeysuriya, Priyankara Ratnayake, Namal Jayasinghe, Chamila Priyanka, Pradeepa Dharmadasa, Nadi Kammalaweera and so on – who take theater forward as actors, teachers, lecturers and directors.
The willingness to devote her life to serious theater Somalatha has passed down to her daughter, perhaps one of the most intelligent and talented actors Sri Lanka has at present. Somalatha's unerring eye for children's joys she has given her son-in-law, who she had mentored from a young
age, for Chandana Aluthge's "Walas Pawula", an adaptation of Goldilocks and the Three Bears, is one of the most delightful children's plays I have ever seen. Her contribution is not simply to children's theater. Apart from the six delightful children's plays, she directed, in Sinhala, Sophocles' 'Antigone', Ngugi wa Thiong'o's 'The Trial of Dedan Kimathi' (in both Sinhala and English) and Bertold Brecht's "Mother Courage" in which she also played the main role. The 1986 reproduction of Gunesena Galapatti's "Muhudu Puttu" was directed by her, in which she played the main role, the same one which she played when the playwright directed it.
She also starred in cinema, notably in Tissa Abeysekera's 'Mahagedera' and 'Viragaya', T Arjuna's 'Wasanthaye Davasak' and Lester James Peries's 'Madolduwa' – appearances in which her roles were unforgettable.
We mourn her passing today. Yet, if there is sorrow now, there is also the knowledge that as long as there are people who will not let her plays die, there will always be, because of her, here in Sri Lanka, unending children's joy and laughter. That is her greatest legacy and perhaps what she will most want to be remembered by.