21st century born children should be smoke-free: New NATA head
By Kumudini Hettiarachchi
World No Tobacco Day today
View(s):
Concerted efforts are being made to make Sri Lankan children born in the 21st century 'a tobacco-free generation'.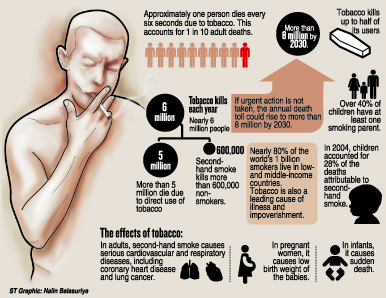 "This is the public health milestone we are hoping to achieve," reiterated the National Authority on Tobacco and Alcohol (NATA) Chairman Dr. Palitha Abeykoon, as across the globe preparations were underway to celebrate 'World No Tobacco Day' today (May 31).
It is not too late to save these children, the oldest of whom will only be 15 years of age, said Dr. Abeykoon who just six months ago took over the steering of NATA.
One in four male adults over 16 or 25% smoke while the figure for females is 1.5%, a 2011-survey had found, making the national total of smoking around 14%.
There are no accurate figures on the use of 'smokeless tobacco' but it is believed to be around 10% of the adult population, says Dr. Abeykoon, pointing out that here the number of women engaging in this habit may be higher unlike in 'smoking tobacco'.
Overall, the use of both 'smoking' and 'smokeless' tobacco is believed to be around 20%.
This is 1 in 5 people and "it is high", is the plaintive cry of Dr. Abeykoon who along with the authorities is targeting a reduction in tobacco use to 5% or below to make it a non-public health issue.
A survey on tobacco use is to be carried next month, it is understood.
A "lesson" on the two forms of tobacco follows — 'smoking tobacco' and 'smokeless tobacco'.
'Smoking tobacco' includes cigarettes, cigars, pipes, beedi, other nicotine products and the hookah (shiska), the Sunday Times learns, while under the 'smokeless tobacco' category falls betel-chewing and items such as gutka being smuggled in from India and babul from Pakistan.
"E-cigars which are a type of 'smoking tobacco' where a nicotine charge comes about when the nicotine gets evaporated and gives a sensation of smoking is not allowed in Sri Lanka," says Dr. Abeykoon, pointing out that the position of the World Health Organisation (WHO) is that it is not a good substitute as people will start with this and progress to smoking.
Next he takes up the 'smokeless tobacco' bulath vita. Both the tobacco and areca-nut are straight carcinogens (cancer-causing), while the lime (hunu or chunam) accelerates the absorption of the other two, making it a deadly combination. Referring to the menace allegedly being touted near schools to entrap children in a web of addiction, Dr. Abeykoon says that the gutka and babul are areca-nut based and include sweetened or flavoured tobacco. "We don't know the prevalence or their use," he said.
Initiation to smoking starts before the age of 25 and very few begin after 30, it is understood, with the "pattern" based on international data most likely being true for Sri Lanka:
- 1/3rd of those who start smoking before 20 give up.
- 1/3rd gets addicted and become nicotine-dependent
- 1/3rd tries to quit frequently and are not a danger to themselves.
Underscoring that the tobacco epidemic is one of the biggest public health threats the world has ever faced, Dr. Abeykoon says that the danger also stems from the fact that almost half of the children regularly breathe air polluted by tobacco smoke in public places.
There are several main strategies used the world-over, relevant to Sri Lanka, with regard to tobacco control, according to Dr. Abeykoon who quotes some insights of the WHO. They are:
- Taxes discourage tobacco use — Tobacco taxes are the most cost-effective way to reduce tobacco use, especially among young people and poor people. A tax-hike that increases tobacco prices by 10%, decreases tobacco consumption by about 4% in high-income countries and about 5% in low- and middle-income countries. Tobacco tax revenues are on average 175 times higher than spending on tobacco control, based on available data.
An increase in prices due to taxation would help to reduce tobacco use among the underprivileged segments of society who are most vulnerable to such use but are also price sensitive, says Dr. Abeykoon.
Although many governments believe that revenue from tobacco companies is high, they have not taken into account the hidden costs to the government, which include health costs and productivity costs when people fall ill after using tobacco. What of the emotional and social costs, he asks.
- Clean-air laws – These prevent people from smoking by bringing in laws to restrict smoking in public places and restaurants.
Some places such as courtyards and big bus-stands where large crowds congregate are "indeterminate", says Dr. Abeykoon, adding that Sri Lanka has brought in regulations but these places have to be re-defined.
- Advertising bans lower consumption — Bans on tobacco advertising, promotion and sponsorship reduce tobacco consumption.
The regulations in Sri Lanka to prevent advertising, promotion and glamorising of tobacco are quite strong, says Dr. Abeykoon.
- Picture warnings & graphic warnings work — Hard-hitting anti-tobacco advertisements and graphic pack warnings especially those that include pictures reduce the number of children who begin smoking and increase the number of smokers who quit.
- Mass media campaigns reduce tobacco consumption by influencing people to protect non-smokers and convincing youths to stop using tobacco.
- Illicit trade of tobacco products should be stopped as they pose major health, economic and security concerns around the world.
- Counselling and medication can more than double the chance that a smoker who tries to quit will succeed. Among smokers who are aware of the dangers of tobacco, most want to quit.
Dial 1948 to kick the habit
Anyone who wishes to give up tobacco may contact NATA's 'Quit Line' — 1948
The best anti- tobacco lobbyist
It was when Dr. Palitha Abeykoon was working at the WHO office in New Delhi, India, that he had met 'Marlboro Man'.
'Marlboro Man' was 60 years old and had suffered the consequences of smoking and was sans a lung which had fallen victim to cancer and also undergone several bypasses, said Dr. Abeykoon, adding that he was the No. 1 Anti-tobacco Lobbyist.