Slipshod use of cooking gas could cost more lives
By Chrishanthi Christopher
View(s):
The gas cylinder explosion that claimed three lives in a Maradana eatery this week has raised concerns over mistakes and carelessness in the use and storage of LP gas in kitchens, both commercial and domestic.
Investigations have revealed that the cafe, close to the Elphinstone theatre, had several gas cylinders stacked in its small kitchen in contravention of safety rules that stipulate no more than 25kg of gas be stored in a 10 square foot room.
Suppliers say customers deviate from standard practice, endangering themselves and those around them. They claim the safety leaflets distributed with new LPG gas cylinders are often ignored.
Litro Gas, which enjoys 70 per cent of the LPG distribution market, said most accidents are caused by high-pressure regulators being used with lower-pressure hoses. Most hotels use T-joints or even connect two or more hose from the gas cylinder to multiple kitchen appliances, it said.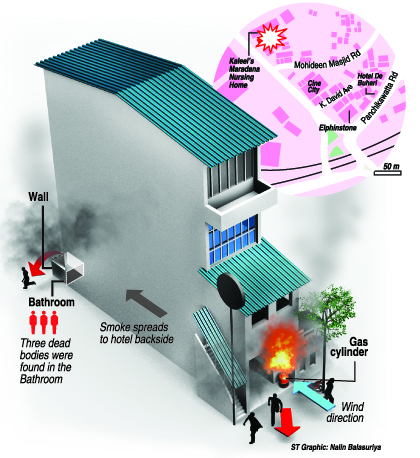 To cut costs some customers buy cheaper hoses that have no expandable flexibility. These soon give way to internal pressure and develop cracks that allow gas leaks. It is recommended that the maximum length of the hose be not more than 1.5m.
Litro Gas's Health, Safety and Environment Manager, Dhammika Welhengoda, said T-joints and multiple connections could be dangerous as air expansion could occur in the joint areas and cause explosions. "This is mainly done by hotels that use multiple appliances using 37.5kg gas cylinders," he said.
The company also stresses the importance of observing safety precautions when changing cylinders. The customer should ensure there is no flame in the vicinity when changing and preserve the safety cap for recapping purposes in case of a leak.
With 80 per cent of households in Colombo using LPG for cooking, there is general belief that gas is a safe fuel. Mr. Welhengoda agrees but stresses the need to observe safety rules to avoid accidents.
He said all cylinders are checked for leaks and dealers are audited every month by their staff. "Our staff visit all outlets and check on the environment and safety methods adopted in storing the gas," he said.
Laugfs Gas Health and Environment Manager A.S. Widanagamage called on customers to change the regulator every three years and store cylinders in a ventilated area and not in cupboards. Additionally, he said, the cylinder should never be kept directly below the stove.
If a person catches fire …
The following advice comes from Dr. Wijeya Godakumbara, Consultant Surgeon and President of the Safe Bottle Lamp Foundation in the unhappy event of a person catching alight in an accidental fire.
The universally accepted way of putting out flames on a person is to "stop, fall and roll".
One should stop the person from running to and fro in fear, push him or her to the ground and roll the body over to smother flames if possible. Water has an important place in first aid. Pour tepid tap water on the person's burnt areas for at least 20 minutes. It is immaterial whether the water is impure: the important thing is pouring water. Do not use iced water as this will cause further damage. Avoid breaking heat blisters. Do not apply homemade treatments such as butter, oil, salt or milk. Cover the patient with a clean cloth and take him to the hospital immediately.