Schoolchildren's lives at risk walking on railtracks
View(s):

More and more minors are following their adults on the railtracks despite the serious threat it poses to their personal safety. In a bid to prevent

this trend, railway authorities have urged parents and teachers to advise children against this practice.

It is a common sight to see schoolchildren take to the tracks on their way to and from their respective schools, with little care to the dangers, a senior railway security official said.

He said this practice is largely common in the outstations where transport is limited and the railtracks offer a shorter path to their destinations, be it the home or school.

Another issue the official pointed out was that some school gates were situated alongside the rail tracks, and the children had no option but to step onto the tracks while entering and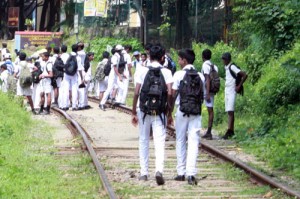 leaving the premises.
He added that, in the past, there were awareness programmes on the danger of walking on trailtracks, which should be re-started with the support of the media.
He also said there are counselors in the Railway Dept and their services could be sought by the relevant school authorities to educate the children on this issue.
"At the end of the day, it is also illegal to walk on the railtracks, and offenders could be fined or even jailed," the official explained.
- (LB)