Teamwork and collective decision making at SLPA: New Chairman
By Namini Wijedasa
Our policy is to review any ongoing project based on unsolicited bid
View(s):
A lack of transparency in the Sri Lanka Ports Authority's core operations was a key challenge to its new management, a top official said this week.
Lakdas Panagoda was made SLPA chairman in January 2015. With a background in engineering, business management and financial planning, the learning curve was very steep. He spent the first few weeks chasing missing files. Even the computer in his office was wiped clean of data.
"The chairman's office was basically empty," Dr. Panagoda related. "I didn't have any files or computer data. Quite a bit of time was spent in getting the right information for me to start work."
Officials were not involved in decision-making related to projects. There was little intercommunication among departments and no exchanges between, for instance, Hambantota and Colombo ports. This meant the management had to delve deeper for information.To create a new culture, they called a meeting of officials and told them their views would be welcome in future; that they were not just pawns on a board. The emphasis is now on teamwork.
"We must give them the opportunity to make full use of their skills, knowledge and experience," the chairman said. "There will be collective decision-making. We now have a very good idea of how everything is related to the central point. And we are fortunate to have a minister who is keen to see this place going in the right direction, without corruption."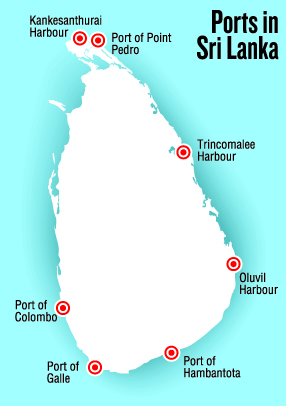 Under the previous regime, the SLPA embarked on several projects on the basis of unsolicited proposals. Major procurements were initiated on single bids. Many could have been done cheaper.
"Our policy is to review any ongoing project that is based on an unsolicited bid," Dr. Panagoda said. One example is the agreement to purchase equipment for the Colombo Port's new East Container Terminal, which is still under construction.
The agreed contract price for cranes and other machinery was US$ 67 million. The new SLPA management learnt from international suppliers that these could have been ordered for around US$ 10 million less. The company initially said it would reconsider the price but backtracked.
Lawyers then found that the SLPA had not confirmed the purchase by the specified deadline of December 30, 2014. Neither had it made the 30 percent down payment on time.
"As far as we were concerned, the document was not valid," the chairman explained. Cabinet approval has since been sought to call tenders for the equipment—four gantry cranes, 12 rigid tyre gantry cranes and four ship-to-shore cranes.
Meanwhile, the contract to build the first phase of the SLPA-owned East Container Terminal is coming to an end. It was carried out by Hyundai Engineering & Construction Co. of Korea. With the second and third phases of the Asian Development Bank funded project still to be implemented, the management is exploring its options.
"We are considering whether to take it on ourselves or go into a joint venture," Dr. Panagoda said. "One option we have is to tie up with China Merchant Holdings International (CMHI) which already runs the Colombo South Harbour."
Ports Minister Arjuna Ranatunga recently revealed that CMHI was being considered for a minority share in the Colombo East Harbour. In contrast to the Colombo South Harbour—where CMHI holds 85 percent ownership—the Government will insist on a majority 51 percent shareholding for the SLPA.
While initial talks have been held in this regard, the Ports Authority will also call for international bids. Several other proposals have come in. "We are looking for new players either to complete the remaining two-thirds of the project or to take over the whole terminal," Dr. Panagoda said.
Meanwhile, the management has increased interaction among the Colombo Port's four container terminals—Colombo International Container Terminals, the South Asia Gateway Terminals, Jaya Container Terminal and the smaller Unity Container Terminal. Two are privately-run international harbours and the SLPA owns the other two.
The objective is to jointly promote Colombo as an international maritime hub. Road expansion within the port is nearing completion, warehouses are being enlarged and there is now 24-hour cargo clearance for ships.
Other ports are in line for development. Investors have been invited into Trincomalee harbour. Galle will receive a yacht marina and UNESCO permission has been sought (on account of Galle being a World Heritage City) to add another terminal there.
MR Port: Earnings  Rs. 150-200 m this year, loan repayment Rs. 7 b this year
This year, the Magampura Mahinda Rajapaksa Port in Hambantota has earned an average of Rs.150-200 million from its sole business, vehicle transshipment. But loan repayments will cost the government Rs. 7 billion this year alone.
It is urgent that the Hambantota port starts making money soon. "At the moment, we are funding Hambantota and repaying that loan through Colombo Port," said Lakdas Panagoda, Sri Lanka Ports Authority chairman.
"All these people here are working to earn money to pay that loan," he continued. "We cannot sustain that for five, ten years. At some point, people are going to start wondering whether we are doing the right thing."
The SLPA's priority now was to "quickly get things organised so that Hambantota produces some income". "It's still a huge, huge commitment," Dr. Panagoda admitted. "At the moment, our debt is US$ 1 billion at Hambantota."
The port's vehicle-handling capacity has now been doubled to around 42 hectares for car-parking. "There is demand but we have to build it up," the chairman said. "This month has not been very good but there are signs it will improve because we are doing some marketing now."
The plan is to actively "sell" Hambantota to the international market. There are around 700 hectares adjoining the port for industries, export-import and other businesses. Around 11 international companies—including those in the pharmaceutical and energy sectors—have expressed interest.
The attraction for most companies is ample space, the nearby port and Board of Investment status with perks. As for the airport, "I can't see much happening there," Dr. Panagoda said. Most of its employees have been transferred to Bandaranaike International Airport.
An outstanding and "burning" issue in Hambantota is the fate of around 400 families who are to be displaced by Phase II construction. They are awaiting compensation which could amount to a total of Rs. 1.2 billion.
"I have a thick file on them," the chairman said. "For the last three years, they have been living in their homes knowing they will be displaced. Some have already left. Some say their houses are damaged. Others are half-packed, expecting to move out at any time.
"They have not been paid compensation," he related. "The estimate at the last count, about two years ago, was Rs. 1.2 billion in total.Something has to be done quickly because their livelihoods are affected. Many have children in school.""The Government Agent and others are in touch with me all the time," he continued. "These people are at their doorstep, begging for compensation. It's a humanitarian issue. We have to find the money while servicing these loans and somehow pay them their dues."