To market, to market – to get duped
By Kasun Warakapitiya and Damith Wickremasekara
Cheap food bargains 'dodgy', inspectors warn
View(s):
Hundreds of people gather at markets believing that they are getting good value in buying food items at cheaper rates but in reality are purchasing outdated and illegally imported goods, public health officials warned this week.
Some of the popular brands are sold at half the original market price.
In the most recent raid, carried out on Wednesday in Borella, Public Health Inspectors (PHI) found imported chocolates in re-labelled packets, cheese with stickers pasted over the expiry dates, toothpaste tubes similar to popular brands and contaminated bottles of water.
Similar items were found in other raids carried out in Main Street, Pettah, Gasworks Street, Old Moor and New Moor streets and Kadiresan Street.
Inspectors said that as well as illegal imported food they also found food items with labels in foreign languages which made it impossible for consumers to learn product information such as manufacture and expiry dates.
Central Colombo Medical Health Officer Dr. Subash Mendis told the Sunday Times that most wholesale and retail shops sell food items smuggled
in luggage or brought in through other illegal means that were unhygienic due to damaged packaging and being out of cold storage.The Food Act stipulated that vendors should only sell food items labelled in Sinhala, Tamil or English and the label should have product information in at least two of these languages including information on the importer and distributor, Dr. Mendis said.He warned there could be unknown chemical components in unlabelled products as well as expired products. Contamination could occur due to being transported in adverse temperature conditions.
Diabetes, and heart diseases, hypertension and digestive problems could result from food poisoning, he said.
Colombo Municipal Council Chief Medical Officer Dr. Ruwan Wijeyamuni said CMC health officials carried out 188 raids from last year up to May and had found 100 shops in Pettah and Borella selling food produce with changed labels to retailers.
Officials had received information that people were bringing in containers of food items claimed to be for private consumption but offered for sale at markets.
Dr. Wijayamuni said a network of sellers distributed the smuggled products around the country through wholesale outlets.
He said 25 shops had been raided with 14 shops taken to court and other shop-owners issued warnings about unlabelled food products on their shelves.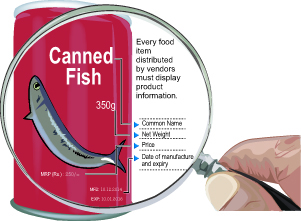 Roshan Perera of East and West Food Pvt Ltd, a food importing company, said while the firm paid duty on imports he knew of people who illegally smuggled in food items for supply to the Pettah markets. These products lacked proper labelling and could be harmful because they had passed their expiry date.
Ferrero Lanka Pvt Ltd, legal importer of the chocolate products Kinder Joy and Nutella, said it imported these products from India after a series of quality tests and they were labelled according to the Food Act, in two languages, with product information and distributors provided.
A Ferrero spokesman said the company paid 35 per cent of the full price of the products to Customs when clearing the sweets.
He explained that the company had come to know the two brands were being illegally imported by wholesale sellers who did not obtain quality certificates nor label the products with distributor and importer information.
He said that when smuggled products are imported in bad condition consumers look unfavourably on the brand and this would affect the legal importer's reputation.
Consumer Affairs Authority (CAA) Director Chandrika Thilakarathna said the CAA regularly took consumer items from the markets to test whether they complied with relevant standards.
She said that recently out of 11 brands of canned fish tested by the Sri Lanka Standards Institute (SLSI) five brands were shown to be substandard.
The drained weights on those five brands were below 65 per cent, less than the required standard. Ms. Thilakarathna said the CAA had raided a canned fish importing company and found that it had been switching the original labels with other products. Charges had been laid against the company, she said.
She confirmed that some shops sold imported food brought in large quantities in the baggage of overseas travellers.