Rains in a week's time say s Met. Dept. while people sweat it out
Schoolchildren the most affected by prevailing hot conditions
View(s):
The Meteorology Department says that showers can be expected in a week's time in the Western, Sabaragamuwa and Central Provinces.
According to Met. Department Deputy Director Anusha Warnasuriya, showers and thundershowers will develop during the afternoon and evening.
"It is also predicted that there may be temporary localised strong winds during showers," she said. She requested the public to take adequate precautions to minimise damage caused by lightning.
"Surface level winds blowing from the sea would not be too hot, but as it contains some moisture, it would cause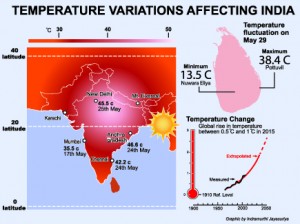 some discomfort," she said. She said light showers were reported early this week in the south-western parts of the island.
"Light showers were reported yesterday from Ratnapura and the highest rainfall was 3.5 mm reported in Galle," she said.
"The maximum day temperatures were approximately 10 degrees C above the normal at Batticaloa and Ratmalana," she said.
"The maximum temperature 38.4 degrees C was reported from Pottuvil and the minimum temperature 13.5 degrees C reported from Nuwara Eliya," she added.
Prof. L. Manawadu of the Department of Geography in the Colombo University said that, when the landmass is heated it results in an excessive evaporation.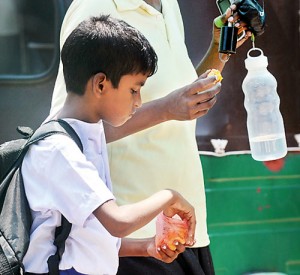 "Oceans are the major component of the climate change. With their huge heat capacity, ocean temperature fluctuates, but in contrast to the atmosphere the oceans are confined by land masses so that the heat transported is more localised and confined to specific regions," he said.
Commenting on the prevailing hot weather he said it could cause dehydration, skin rashes, lack of sleep, and increase in stress levels.
Lady Ridgeway Children's Hospital Director W.K. Wickremasinghe said many schoolchildren were affected by dehydration and heat rash.
"A majority of the victims are schoolchildren aged between five and 12 years who have been exposed to the sun directly", he said, adding that there was an increase in the Outpatients Department (OPD) admissions, mainly children who have fainted especially during sports practices.