HIV AIDS: Infection risk rises as those diagnosed comprise only 50% of infected
By Chathuri Dissanayake
View(s):
With only 50%of all the HIV AIDS patients in the country diagnosed, Sri Lanka is facing a greater risk of infection, while 40% of those diagnosed have been abroad for work, UNAIDS Country Manager for Sri Lanka, Dr Daynath Ranatunga told the Sunday Times.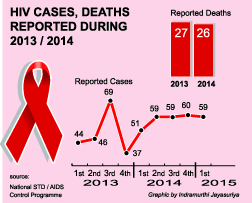 While Sri Lanka remains a low prevalence country, the number of people living with HIV AIDS has increased steadily over the years, he explained. National STD/HIV Control Programme has diagnosed 59 new patients during the first four months of this year.
"The biggest issue here is that testing has not reached the at-risk and vulnerable population. The National programme is doing very well in terms of aftercare, but we need to focus on diagnosing. The leakage in diagnosing is 50%, hence there are over 50% who don't receive treatment at all, with only 126 patients virally suppressed," explained Dr. Ranatunga.
According to UNAIDS and the HIV control programme estimates, Sri Lanka should have 3,600 HIV patients of whom at least 3,200 should be diagnosed. Out of those, the programme has detected only 1,732 cases, and from this group, less than half come for treatment, with only part of that population living with virally suppressed HIV, increasing the risk of transmission of HIV.
The risk is heightened, as 65% of those who have been diagnosed are general population, not falling under any of the specific risk groups.
"We cannot pretend that these people abstain; they are sexually active people in the community. That is why we need to get them into treatment, where the risk of infecting another person can be minimised," he said
Surveys conducted by the National STD/HIV Control Programme indicate a steady increase in HIV patients among the identified risk groups in the country. Since 2010, HIV positive diagnosis has increased fivefold among female sex workers (FSW), Men who have Sex with Men MSM, another risk group, also records an increase in prevalence, explained National STD/HIV Control Programme Director, Dr S. Liyanage.
Added to this, reaching these at-risk groups to conduct awareness campaigns and educate them on their vulnerabilities has become increasingly difficult, he said.
"Sex workers now operate through mobile phones and the internet, only a limited number are accessible through hotspots. Hence, it is difficult for us to access them," Dr. Ranasinghe said, adding that the issue may be more serious as they are unable to reach the group and the at-risk groups such as FSW and MSM do not come to get tested either.
The activities the groups engage in are illegal in the country, so they do not want to admit they engage in them. Further, the social stigma also discourages individuals from openly seeking assistance and treatment, he explained.
Workers going abroad have been identified as a highly vulnerable group, but preventive measures and awareness campaigns are inadequate, said Dr Ranasinghe.
Voluntary testing of returnee migrants still remains low as awareness among the group is low.
Currently, only a 1-day awareness programme is conducted for migrant workers by the Foreign Employment Bureau, in the pre-departure programme.
"This is scheduled for the last day of the training programme when the individuals are not in a proper mindset to absorb such information. They hardly pay any attention to this at that point. The awareness should be carried out in a better way," Dr. Ranatunga said, emphasising the need for more attention on awareness for vulnerable groups.
Dr. Liyanage too agrees that awareness should increase among workers to encourage them to seek voluntary testing upon their return to the country.
"We detect most of these cases when they have to return to work abroad, when testing is mandatory. The testing lab informs us, and we work to find the patient and carry out treatment," he said.
Further, he highlighted the need for more high level involvement in protecting this vulnerable population.
"These individuals may not have any access to any protective mechanism, or have the bargaining power to demand protection
The lack of resources for the programme has also been a concern. Currently, there is only one STD clinic in each district, with such services established in the north and the east only very recently.
The programme is planning to open clinics at all Base Hospitals in the country, staring from Homagama, Embilipitiya and Tangalle, and also hopes to test all pregnant women for AIDS, to prevent mother to child transmission.
"Currently, we carry out syphilis testing and we plan to use the same blood sample for AIDS testing. At present, we conduct the test on 60% of the population, with plans to achieve 100% by end 2015," Dr Liyanage said.
Since the first quarter of 2014, no baby born to a woman diagnosed with HIV has tested positive. This year, six babies born to HIV infected women were tested negative, Dr. Liyanage said, highlighting the importance of early detection.