Combing offensive elegance and defensive grit, Field Force Youth Basketball Club steamrolled the determined yet disorganized opposition of Moratuwa University by 79-67, in their Carlton Basketball match played at Police Park yesterday.
Field Force played some champagne basketball at times, passing the ball with scintillating fluency and executing their shots with deadly accuracy. Their dominance was demonstrated by the fact that four of their players scored in double figures.
The highest of these scorers was Chathura Hemaliyanage who netted in 15 points, closely followed by Shiyan Doule who scored 14 and Chaminda Amarathunga who dropped in 12.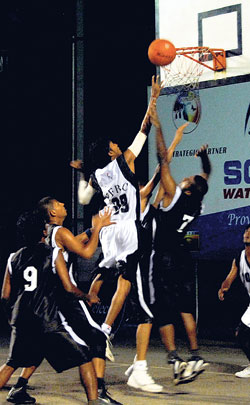 A Field Force player goes up to snatch a rebound. Pic by Sanka Vidanagama.
Moratuwa University lacked quality while finishing and more than once missed sitters right under the basket. However they continued to fight throughout the match, thanks in no small part to Mahesh who scored a game high 20 points, Prashan, who scored just one point less than him and Prabath who finished with 14.
Field Force were actually performing below their potential throughout the first half of the match, and the men from Moratuwa took full advantage of this, converting fast break opportunities off several bad passes and misses.
However with just a few minutes to go before halftime Field Force stepped things up, distributing the ball more and tightening up their defence. The result was from a 30-27 Field Force lead, the score ballooned up to 42-27 at the short whistle.
Once in their groove, Field Force piled on the points in the second half, at times toying with Moratuwa, and dazzling the crowd with some near impossible finishes and shots at the basket. In the fourth quarter however Field Force began to get a bit careless and slowly began relinquishing a lead which at times had darted above 20.
In the end though Field Force pulled things together and closed shop on Moratuwa University, claiming a victory which, considering the skill disparity between the two teams, was never really in doubt.