Top male swimmer Mathew Abeysinghe blistered through the under 17 100 meter freestyle event, to stamp his authority over the first day's proceedings of the Swimming Championships at the National School Games, held at the Police Swimming Complex yesterday.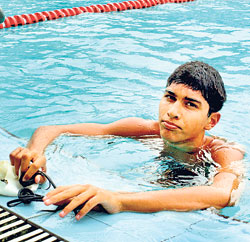 Mathew Abeysinghe from Asian International School after winning the under 17 boys 100 meter freestyle. Pic by Nilan Maligaspe
Abeysinghe, swimming for Asian International School, got off to a quick start and kept the rest of the field at bay with quick strong strokes. His teammate Ali Ispahani and Royal College's W. Wickremarachchi were the only two who seemed to be within Abeysinghe's periphery, but just barely. By the time he made the turn for the final 50 meters, Abeysinghe had a comfortable lead which he maintained until he touched home with a timing of 57.07 seconds.
Wickremarachchi, who clocked in at 57:97 seconds and Ispahani, who finished in 58.35 seconds, had to settle for second and third places respectively. In the day's other finals Gihara Amerasekera from Southland College, Galle claimed the 200 meters Under 17 girls Individual Medley in 2:42:08 seconds. While in the boys under 19 100 meter freestyle Rasitha Chalanga from Ananda College touched home at in 58:55 seconds.
Meanwhile in the day's relays, St. Joseph's College clinched the under 19 4x50 meters in 1:49:90 seconds, Musaeus College sealed the women's 4x 100 in 2:09:90 seconds and Vishaka Vidyalaya took home the under 17 4 x 50 meters in 2:09:18 seconds.