The all round sportsman that he was, Sylvester Dias had a passion for cricket, nay; cricket was a way of life to him. Sylvester was a trier to the very end. He would try his very best to win every match he played. Until the very last ball Sylvester would show immense determination to end up on the winning side. However, the former All-Ceylon paceman once off the field was an entertainer par excellence and a raconteur of exceptional ability that made him the life and soul of the team once they got back to the pavilion. Sylvester's earliest memories of his illustrious cricketing career dates back to St. Anthony's College, Wattala whom he represented at U-14 level when he was just 9 years old.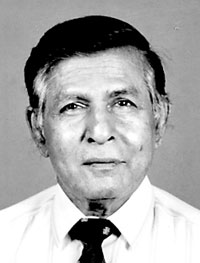 Sylvester Dias
From there he joined De Mazenod Kandana, Zahira College Matale and finally ended up at Zahira College Colombo where he blossomed into an outstanding cricketer, apart from being an athlete of repute, a talented hockey player and a renowned soccerite who played along with politician A.H.M. Fowzie and brought unprecedented honour to Zahira Colombo by winning the schools championship in 1957.
Sylvester was a household name in cricket at College, All Ceylon and Central and North Lancashire league levels in England. In 1957 playing for Zahira Colombo against Dharmaraja, M.A. Chuncheer and Sylvester amassed a mind boggling 536 for the loss of just 2 wickets for their College. Chuncheer made 226 while Sylvester's contribution was 104. He followed this up by causing further damage to Dharmaraja College with the ball, claiming a match bag of 13 wickets which by any stretch of imagination was a fantastic achievement for a schoolboy.
In 1960 he joined Bloomfield C & A.C. and represented them with tremendous success for there years. During his tenure at Bloomfield the president of the club Shelley Wickremasinghe fixed him up at the Ceylon Transport Board whom he represented and later captained in the Nationalized service cricket tournaments.
In 1963 he moved camp to Moratuwa S.C. and was their No. 1 paceman. In his debut for his new club Sylvester struck terror into the University batsman in the Premier league tournament and went on to claim 5 wickets for a miserly 20 runs. With such prodigious talent as Sylvester's the selectors took the decision to blood him against the visiting Pakistanis led by Imitiaz Ahamed in 1963.
What a memorable first National outing it was for Sylvester who went on to justify the selectors' faith in him capturing five wickets which made him an automatic choice for future representation. 1964 saw Sylvester tour India with The National Team and in a practice game against the State Bank of India with many Indian test players in it's rank, Sylvester turned up trumps once again by capturing 5 wicket for 62 runs. Against the visiting Australians led by Bill Lawry, Sylvester once again showed his consistency and enormous talent by capturing 3 wickets for 45 runs.
Prior to the Australian visit he was selected to tour England which tour was aborted.He then left for England with the help of Bob Bartels to play in the Central and North Lancashire league where he had the distinct fortune of playing with and against renowned cricketers of other countries including Sir Garfield Sobers the best all-round cricketer that the world has ever produced. Once playing Littlebrough whom Sobers represented he bowled 25 overs unchanged which prompted the great man Sobers to inquire where Sylvester got all the energy to bowl for such a long time. Incidentally Sylvester captured the prized wicket of Sobers in this Match after the batsman had scored 33.
Playing for Conford in the North Lancashire league Sylvester was within touching distance of a memorable haul of 100 wickets in a season. He had already had 98 wickets with 3 matches to go before the season wound up. However it was not to be as all three matches were washed off by rain without a ball being bowled. Thus he was left stranded with 2 wickets short of that magical figure of 100. The great man that he is Sylvester just took it in his stride and accepted the inevitable. In 1983 Sylvester joined the Employees Trust Fund and represented them in the Nationalized Services league until retirement. He is indeed a legend and the up and coming youngsters will do well to emulate his deeds and keep him as their role model.