Kandy Sports Club and Sri Lankan star studded player Fazil Marija's chances of having a taste of Ireland rugby was deprived by the officials of the Sri Lanka Rugby Football union (SLRFU). Fazil who could fit in to any international side without much effort was to join one of the leading Ireland clubs in early October. But the SLRFU's delaying tactics in issuing the much needed letter for his visa cost Fazil the chance of playing in Ireland.
Fazil Marija speaking to the Sunday Times said that he was offered to play in Ireland from October this year. The club in Ireland sorted out all initial documents and wanted a letter from SLRFU saying that they have no objection in releasing me but when I went to SLRFU they gave me a letter signed by the Secretary they told me to go to the Sports Ministry to get the release letter.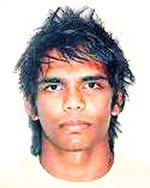 Fazil Marija
When I went there they did not know anything about this and told me to come in two days time. However when I went there later they said they will need to put this before their committee and decide whether to issue a letter or not. But as the closing date for the club in Ireland was nearing I was forced to apply for a visa without the SLRFU letter and the visa was rejected.
A sad Fazil said, "I have done so much for the Sri Lankan Rugby and the Union is unhappy about my decision of not playing in the recent Shanghai Sevens. I was injured, if not for sure, I would have gone on the tour. Further my Dr. (Suraweera) wanted me to rest for 2-3 weeks before taking part in any games. Now I want to recover fully and be prepared for the Rugby Asiad next year. It is very unlikely that I will participate in any sevens tournaments this year. Also I don't want to go on joy rides and thus deprive another player's chance if I am not 100 % fit."
Kandy Sports Club and National fifteens Coach Johan Taylor said that any player who gets an opportunity to play overseas, should utilize it to improve his own skill levels. In Fazil's case it is even more important since he missed nearly the whole season because of an injury. If he plays for Sri Lanka at next year's Five nations, he needs to play overseas to get himself match fit and improve his awareness after so many months of inactivity. Playing overseas gives a player the opportunity to experience a new culture and help for example in improving the language skills; therefore it is not just benefiting a player's rugby career but also his life experience.
He ended by saying if he gets a letter from a doctor you cannot argue. The fact is the season start much later in Ireland than the sevens tournament in Shanghai. This means he will have another 7 weeks of rest from the date that the sevens team for the contest started training, (i.e. 2 weeks ago) before he has to start training and in order to play in Ireland. Also anybody who has played rugby will know that sevens rugby is much more severe on joints like ankles and knees. Therefore to train and play sevens increased his chances of injury much more than XV-a-side rugby. Training for sevens is much harder as more running is required for playing and training than in the 15 man code especially in a country like Ireland where the game is much slower and dominated by forwards.
Sunday Times contacted the Vice President of the SLRFU Lasitha Gunaratne who was furious about this incident saying that how can he skip practice for sevens and ask for permission to go to Ireland at the same time? "Also at SLRFU we do not issue such letters as none of the players are contracted with us at present. What is the guarantee that Fazil will return? "He ended by saying that no one is indispensable. "We have lot of young players and they will gain the much needed international exposure by representing the country and will be a good fit or the future.
Fazil Marija sustained a serious ankle injury whilst playing for Sri Lanka XV against the Chinese Taipei outfit in Singapore in the Asian Championship game early this year.