Putting up a legitimate fight is what the armed forces are about, and the Sri Lanka Army's strongman Sisilasiri Somapala fought a fine fight – beating three magnificently ripped Sri Lanka Air Force rivals – to clinch the title at the recent Mr. Sri Lanka Bodybuilding Championship.
Somapala, who had earlier in the evening won the 75kgs-and-under category, had three formidable opponents in airmen-musclemen Sisira Kumara, Lasantha Fonseka and Ranil Sampath, winners of the 85kgs, 70kgs and 65kgs categories respectively. The four flexed away furiously, and had to go through repeat posing routines before the judges could make a final decision.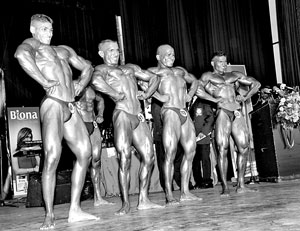 Fight for Mr. Sri Lanka title: (from left) Sisira Kumara (Sri Lanka Air Force), Lasantha Fonseka (SLAF), Mr. Sri Lanka title winner Sisilasiri Somapala (Sri Lanka Army) and Ranil Sampath (SLAF). Photo courtesy of SLAF
Over the past 18 months, the Air Force has been fielding top builders at muscle contests and collecting a slew of trophies, including last month's Mr. He Man title. Although the airmen missed the Mr. Sri Lanka title, it was still a victory night for them, having collected eight out of 10 titles, including the junior category.
This is the fifth time Sisilasiri Somapala has been crowned Mr. Sri Lanka. The first occasion was in 2004, and then again in '05, '07 and '08. Speaking with the confidence of a seasoned fighter, he told the Sunday Times that he would continue to vie for the Mr. Sri Lanka title until he won silver or gold at an international event. He said he was grateful for the support he received from his comrades and superiors in the Army, and that his big hope was that a sponsor would turn up to help him cover the costs of the special food supplements a contesting muscleman must have.