An inspired outing by several of Musaeus College's rowers, at the 26th Rowing Nationals, saw them set several new records last week at the Bolgoda Lake.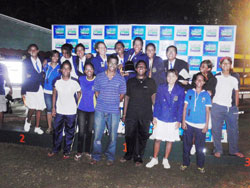 The Musaeus College's rowing team with Coach Reshane Fernando
One of the school's standout performers at the event was Swarnamali Wijesinghe, who paddled a record 9.42 seconds in the Under 19 sculls event. She was trailed in the same event by a fellow Musaeite, the gifted 15-year-old Hiruni Mendis who came in second with a timing of 9.61 seconds.
Swarnamali, who won the school girl sculler award for a record third consecutive year, has also been nominated to tour China for the Asian Games Youth Camp.
Musaeus College 'A' also went on to claim the prestigious boat race event, which decides who gets the overall trophy for the girls' Under 19 category, by rowing the 2000 meter distance in under nine minutes.
The other girl schools which showed their class were Ladies College and Bishop's College. Ladies College enjoyed success in the Under 16 age group when the doubles pair of Anisha Gunasekera and Anishka Gomesz took home gold. However it was Bishops College who walked away with the overall prize for the Under 16 age group.