Sri Lanka's post-war economic revival will see the Colombo stock market hit pre-1994 highs when the market had a 'tremendous' run, according to stock analysts. "We are once again seeing signs of a return to those days with a lot of interest being raised on our capital market by foreign investors and a strong rally by the local investors as well, despite some profit-taking and corrections along the way," Ray Abeywardena, CEO Acuity Partners told the Sunday Times FT.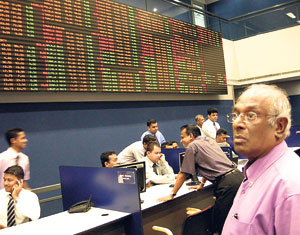 He noted that the expectations are that volumes will increase from hereon with higher market multiples. "While companies will be interested to list, listed entities will raise additional funds through rights issues and by broad - basing ownership. This will help the market reach investors that have not been hitherto targeted," he said.
He said that despite waging a war, most Sri Lankan companies have managed to record a steady growth (of 20% on average) over the years.. "The resilience of the corporate sector is clearly evident in these results and the prospects in the post – war scenario is certain to significantly increase profit growth potential, in line with the substantial improvement in real GDP growth."
Jaliya Wijeratne, Director, Institutional Sales at SMB Securities, noted that the market is currently witnessing an upbeat momentum and it will definitely touch 3,200 levels by year-end if the current momentum retains. "The external factors contributing towards the growth such as lowering of interest rates, inflation, growth potential that is ahead for most companies with the war risk factor for the country not being there will be positive," he said. He noted that foreign participation will increase more than what has been seen at present. If that happens, the turnover levels will touch more than Rs 1 billion," he said, adding that foreign funds are now hunting for big parcels in blue chips.
Mr. Abeywardena noted that more liquidity is needed in the market in order to attract more foreign funds. "The regulatory framework, the infrastructure, trading platform and compliance in this market is in place. The only way we can bring in liquidity is bigger and more firms to list," he said. He also noted that this is a good time to bring in instruments such as short-selling and derivatives. "There are many opportunities now in corporate finance, mergers and acquisitions and raising of debt and equity."
He said that return to profitability will see the industry put money in superior IT platforms and higher marketing budgets. Thakshila Hulangamuwa, Vice President Business Development, Asha Phillips Securities said that the reconstruction and rehabilitation needs in the war torn areas are expected to provide attractive growth prospects to construction and manufacturing sectors such as cement, cable, paint and tile manufacturers.
Mr. Abeywardena said that the predominantly agriculture based economies in the recently liberated areas would provide opportunities to agriculture based companies including fertilizer and agro chemicals manufacturers. "We do not see many agro-based industries listed. So it is a potential listing area," he said.
The Colombo bourse is up nearly 87 % upto this week with the All Share Price index crossing 2,700 on Wednesday, against 1,503 in end December 2008.