Hayleys Agro Products Ltd (HAPL), saying it had a strong showing at the Agribusiness (Ag-Biz) 2009 Awards, has announced plans to introduce three new low toxicity insecticides 'Provado 70% WG,' 'Belt' and 'Curbix' from Bayer CropScience in the near future.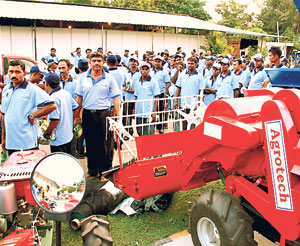 Picture shows farmers from Welimada and Anuradhapura at the Ag-Biz exhibition.
A company press release said that HAPL clinched four awards including two Golds at the Awards, the highest number won by a single entity at this year's event. HAPL received the Gold award in the Large category as the Best Input Supplier, Gold award in the Medium category for its veterinary products, Silver Award in the Large category for farm machinery and equipment and Silver Award in the Large category for its extension services. The awards are organized by the National Agribusiness Council.
Hayleys PLC Agri Sector Head Rizvi Zaheed said the Awards recognize the company's commitment in many facets of local agriculture and livestock development as well as the catalytic role played by HAPL in helping Sri Lankan farmers to improve yields and quality of both agri crops and livestock. Mr. Zaheed attributed the company's consistent success at the Awards to the close affinity and rapport it had built up with farmers in many parts of the country.
In a further demonstration of this relationship, the press release stated that HAPL brought down 220 farmers to visit the Ag-Biz 2009 exhibition held in conjunction with the awards ceremony. These farmers from areas such as Welimada, Uva Paranagama, and Kirawanagama were members of Hayleys Agro Farmer Clubs (Govi Samajaya) established in Welimada and Anuradhapura.