Tea prices increased at the Colombo Tea Auctions this week as buyers bought up available tea stocks to protect against supply disruption from trade union action. Although trade union action affects output from the Regional Plantation Companies (RPCs) - mainly high and mid grown teas -, tea brokers reported a marked increase in prices of all categories of tea this week. This price increase is attributed to trade union action when there is already a global supply shortfall of tea and the winter tea buying season for Russia is starting.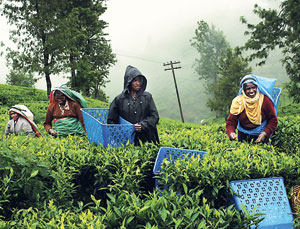 The going rates for high grown tea went up from Rs 25 to Rs 30 per kilo this week compared to last week at the Colombo auctions. Prices of mid and low grown teas increased from Rs 15 – Rs 20 per kilo compared to last week.
"Buyers may be worried that if there is a full blown strike, there would be a shortage and a drop in quality. So they are buying up the already available, manufactured tea, because these are good quality. This is also the time for winter buying for Russia and there is a global supply shortage of tea this year as well. All of these factors may have contributed to the strong action prices," explained the Head of Operations at John Keells PLC, Romesh Walpola.
Exporters said that trade union action of one week has already delayed some tea exports. Exporters say export delays could result in breach of contract but more importantly will dent Sri Lanka's credibility in international tea markets.
"Already some exports have been delayed because the trade union action is preventing transport of manufactured teas. The tea that has been sold is not allowed to come to Colombo for export. Some teas from the RPCs have been exported but most of the tea is still held up. If this continues it will affect our credibility in the market," said the Chairman of the Tea Exporters Association of Sri Lanka, Jayantha Keragala. High and mid grown teas account for about 40% of Sri Lanka's tea output. Trade union action is mainly affecting the output and export of these teas.
The industry maintains that these teas are significant because they are used mainly for tea bags that bring in higher incomes and because they cater to a specific market segment. Based on previous experience, the tea sector takes about 3 months to recover quality standards after a general strike that drags on for 2 – 3 weeks. The industry is concerned that delays and poor quality, due to trade union action, could make buyers shift to competitor countries.