Sri Lanka's Aitken Spence Travels and the TUI Service Team in the country were recognized by TUI for overall service performance to its guests during Winter 2008/09 season, by winning the third place globally among small destinations, the local company said.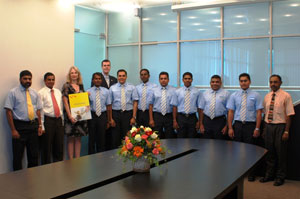 From left -- Gehan Perera (MD, Aitken Spence Travels), Niranjan Rodrigo (Director, Aitken Spence Travels), Ms. Christiane Thoma-Ratnasiri (Senior Product Manager, Sri Lanka), Roger Zerter (Resident Manager, Sri Lanka), TUI Service Team in Sri Lanka and Ravi Subramaniam (COO, Aitken Spence Travels).
TUI is the world's largest integrated tourism group with a commanding presence in virtually all international tourism destinations. TUI has been represented in Sri Lanka by the country's largest inbound tourism operator Aitken Spence Travels for over three decades.
All TUI destinations are divided into large/medium/small categories based on arrival figures. The first place was won by Bali in Indonesia and the second place to the Spanish Canary island of La Palma, Aitken Spence said.
"Given the integrity of this global award, I congratulate Aitken Spence Travels and the TUI service team in Sri Lanka for their exemplary commitment to service which has been recognised" said, Mr Roger Zerter, TUI's Resident Manager in Sri Lanka.
Gehan Perera, Managing Director of Aitken Spence Travels, added "this is a momentous achievement not only for Aitken Spence Travels & the TUI service team, but also for Sri Lanka as a nation, at a time where we seek to lure tourists to our island's shores as we walk out of the shadow of decades of conflict."