X-ONT SOFTWARE (Pvt) Ltd has received the Software Engineering Institute's Capability Maturity Model(R) Integration (CMMI) Maturity Level 3 rating, the company said.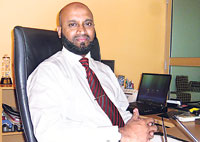 Fazeem Farook
"This accomplishment highlights X-ONT's commitment to performance excellence and delivering value to its customers by improving business processes," it said in a statement. Fazeem Farook, Managing Director of the company, said less than five companies in Sri Lanka have been awarded this certification which is a recognition for the software industry itself.
This rating confirms the results of earlier formal assessment in June 2009 when X-ONT's processes were thoroughly examined for compliance to CMMI's requirements (CMMI® for Development v1.2 Maturity Level 3) in selected projects by a CMMI appraisal team.
CMMI is an internationally recognized process improvement model that provides organizations with a framework to build and continuously improve effective processes. X-ONT has been using CMMI practices since its inception.