Mitsui Sumitomo Insurance of Japan, has renewed its cooperation agreement with Ceylinco Insurance, the Sri Lankan company said in a statement this week.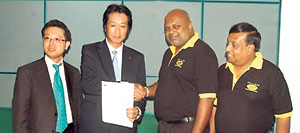 Picture shows Ajith Gunawardena, Deputy Chairman of Ceylinco Insurance PLC handing over a copy of the agreement to Masaya Okabe, General Manager- International Division of Mitsui Sumitomo , Japan. Also seen are Jagath Alwis, Director Technical of Ceylinco Insurance ( extreme right ) and Eiji Higuchi , Manager Underwriting – International Division of Mitsui Sumitomo (extreme left).
The renewal of agreement is expected to give Japanese businessmen, entrepreneurs and contractors working in Sri Lanka a platform that understands their requirements and standards. The agreement will also provide opportunities to acquire technical expertie.
"Our strong relationship with Mitsui Sumitomo has given us an edge over others on many occasions" said the Director Technical of Ceylinco Insurance, Jagath Alwis.
Mitsui Sumitomo that recorded an ordinary income of US $ 21 billion during 2008 is the largest non- life insurer in Asia, said Ceylinco. The company also has an AA rating by Standard and Poor's and AA3 rating by Moody's Investor Services in global rankings.
Among its portfolio of services, Mitsui offers an extensive line up of distinctive products and services that focus on specific needs of various target segments.