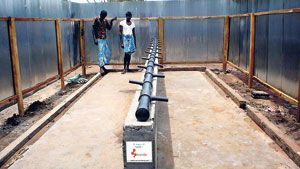 Bathing facilities constructed at the camps
As part of a CSR initiative, apparel exporter Brandix, recently constructed bathing facilities for internally displaced persons at the Menik Farm camp in the north. Since its CSR programme centres around water and sanitation the group said in a statement that it built 50 bathing stations, each comprising of 20 bathing units. The statement added that the facilities were sufficient for providing bathing facilities forup to 1,000 people at a time.
"Facilities for water supply and sanitation are two of the most critical needs of the IDP camps," Anusha Alles, Head of CSR at Brandix, was quoted as saying. The project which is expected to be completed by the end of this month, incorporated labour from among those displaced persons for the construction, enabling them to earn an income as well.
A cost-effective design that would minimize wastage of water was used, and all bathing stations are incorporated with inter-built drainage lines which are connected to the main drainage system to ensure that the bathing facilities would remain hygienic, the statement said.