The government has imposed the Maximum Retail Price (MRP) system of taxation in the Cess on the import of all confectionary products heeding a request made by Lanka Confectionery Manufacturers Association (LCMA).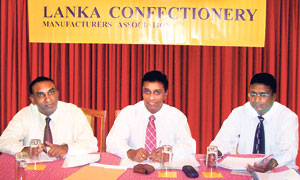 Picture shows the AGM in progress
The aim is to curb the dumping of cheap imported confectionery products which pose a major health risk among the people, mostly children who consume them, said the Chairman of the Association Quintus Perera in a statement in the Association's annual report 2008/2009. However he noted that for some very strange reason this was not made applicable to import duty.
He urged the government to introduce the MRP System of taxation to import duties in addition to applying it on cess as it will lead to a great reduction in under–invoicing of imported confectionary. Imported confectionery products, have also been brought into the 'Compulsory Inspection Scheme' implemented by the Sri Lanka Standards Institution (SLSI).
Most of the cheap imports come mainly from China, Indonesia, India and Dubai in the form of candy, cup jellies, chewing gum, sweets and snacks and are sold at low market prices, the Chairman noted.
"This raises suspicions on unspecified, cheap raw materials or substitutes being used in these products".
He emphasized the need to enact legislation to curb this threat as the unregulated flow of low quality confectionery imports could be detrimental to the health of the people.