Domestic airline and helicopter operator, Deccan Aviation Lanka this week said it has opened a check-in lounge and facility in Colombo. Similar to city check facilities in European metros, the conveniently located modern facility enables passengers to check in directly in the city while enjoying the facilities at the lounge.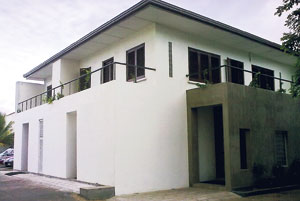 The new facilities
Passengers will then be transferred via luxury coaches to the airport for their onward flight to Jaffna, the company said in a statement. The new air conditioned facility, open to all passengers, provides comfortable and relaxed seating, cable TV, and broadband access. Passengers will also be served hot or cold drinks and snacks.
"What we hope to achieve with this is to change the perception of air travel to Jaffna. Our guests have a convenient and comfortable check in location, and we take care of them from that point onwards. It's time that passengers on flights connecting our country's two biggest cities are treated to a world class flying experience," said airline Managing Director Suren Mirchandani. At present most passengers on domestic flights to Jaffna have to undergo rigorous security checks at the airport entrance and the move is seen as a means to offer passengers a better class of service.
Similar facilities are also planned for the rest of the island, most importantly Jaffna. They will have the same architectural elegance and standardised amenities as the Colombo lounge, the statement from the domestic airline said.