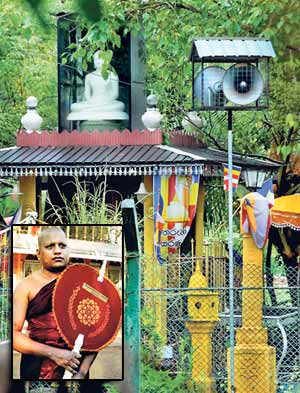 The Welikadawatte temple and its chief incumbent, Ven. Pannala Pannaratne Thera. The chief monk was remanded last week on contempt of court charges after he failed to appear in courts to face charges of violating a Supreme Court ruling on the use of loudspeakers. Pic by Sanka Vithanagama
Zardari Pakistan's new President
Asif Ali Zardari secured a large win in Pakistan's presidential elections today, capping a remarkable rise from jail, exile and his wife Benazir Bhutto's
Finding her flame
In ten years time, hopefully, Shanaki Perera will have released an album of her own music in addition to being a dedicated and successful career woman with a Masters and PhD under her belt.
'Life' Resort for better life

'Life Ayurveda Resort', one of the pioneering Ayurveda therapy hotels, is located right on the Beach in Thalpitiya, Wadduwa, just 45 minutes drive from Colombo.
UN says it can't advise LTTE on trapped civilians

United Nations agencies in Sri Lanka have said they are unable to advise civilians to vacate LTTE-controlled areas despite a government request to this effect. Heavy fighting in the Wanni has forced thousands of civilians to move deeper into guerrilla-dominated areas.

JHU sounds out new Act to beat loudspeaker rule

The Jathika Hela Urumaya (JHU), a political party led by Buddhist monks, has announced that it will push for a new Act that would give religious organisations greater flexibility under the law on the subject of noise pollution.

EDITORIAL

The message is loud and clear

In November last year we welcomed in this very space, what we called a landmark Supreme Court decision to curb noise pollution. We said then, that loudspeakers have been grossly abused by all groups to the detriment of a multi-ethnic, multi-religious citizenry, the very anti-thesis of what the Great Teachers preached.

PLUS

Voice for the voiceless
Chandima Rajapatirana simply adores chocolate. Though his mother Anoja had no doubt guessed this already, it took 18 years for Chandima to tell her himself.

FINANCIAL TIMES

SEC seeks AG's advice on judgment

Amidst a flurry of activity post-LMSL, the Securities and Exchange Commission (SEC) asked John Keells Holdings (JKH) to inform its shareholders on the financial impact of the Supreme Court judgment on its bunkering arm while seeking the advice from the Attorney General (AG) on how to comply with the court verdict.

Cricketers refuse to budge

Sri Lanka is to play a 20/Twenty game in Canada against Pakistan, West Indies or South Africa in October this year. Negotiations are also

Rebellion in Gampola

Aryachakravarti got a chance to interfere with the power struggle of the Sinhala kings. He almost became a mediator. He benefited by the invasions against the Sinhala kingdom.