Rs.429m Japanese aid for Public Sector Human Resource Development
View(s):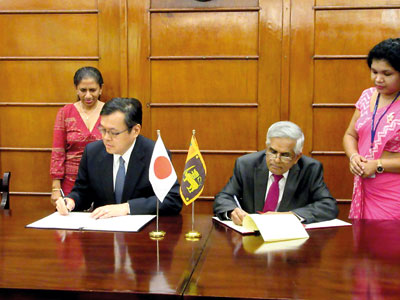 The Government of Japan has granted Japanese Yen 263 million (approximately Rs. 429 million) for the Human Resource Development Scholarship (JDS) project, to train young executive officers in the public sector at universities in Japan.
Under the project, 17 public sector officials will be sent to pursue a 2-year Masters or PhD Degree from 2020 to 2022, to develop their skills, in order to qualify them as future national leaders in their respective fields.
The Degrees are in Public Policy, Public Finance, Economics, Business Management, Environmental Management, Disaster Management and Climate Change. Since its inception in 2010, the JDS Programme has supported 137 public sector officials in Sri Lanka.
The Exchange of Notes for the above project was signed on Wednesday at the Ministry of Finance between Japan's Ambassador to Sri Lanka, Akira Sugiyama and Secretary, Ministry of Finance, Dr. R.H.S. Samaratunga.