Compelling Financial Institutions-China Construction Bank
View(s):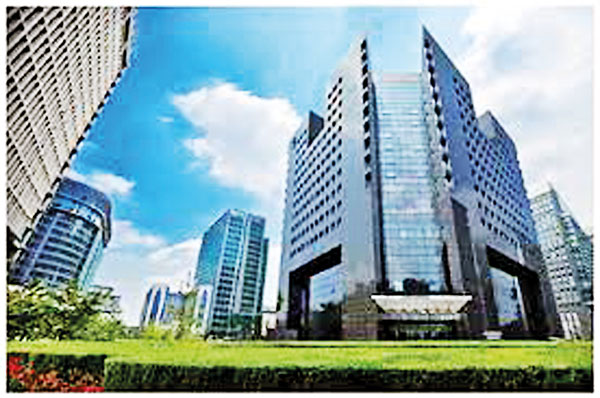 A bank is a persons ally, and it has been so ever since the monetary system evolved into the banking system. It is necessary to comprehend the vitality of such financial institutions and realize the manner in which daily routines are interconnected. The globe is rich with such financial institutions, in all the scales. In this edition, special homage is given to a specific bank which has shown great promise throughout several decades. It is non other than the award winning China Construction Bank.
Historical debut and rise through the ranks
Its roots stem back to 1st of October 1954, where it made a humble debut as People's Construction Bank of China. This has remained intact for 4 decades until the bank was re-branded as the China Construction Bank on 26th March 1996.Initially, service was limited within domestic borders, operating as a China exclusive financial institution.It remained as such until 2006, where CCB acquired Bank of America (Asia) which was initially recognized as the Bank of Canton (Hong Kong) and had a subsidiary in Macao. This was a turning point in the undertakings of CCB at that time, because that was the launching pad for further future international expansions.
Using the stimulus received by that initial acquisition, the Bank devised strategies which permitted the extension of operations across international waters.An application was submitted to the New York State Banking Department and Federal Reserve Board to penetrate New York City in 2008. The CCB office in New York was made official on 6th June 2009, once the relevant authorities gave the green light. Through effective positioning, CCB managed to establish a branch in London on 2nd June 2009. The rise in popularity through these expansions earned the bank its presence in Europe after its European Headquarters in Luxembourg came into existence.
Fast forward to 2019, the bank is currently offering lucrative services to all its stakeholders.Lets take a peek at the portfolio of diverse customer oriented services and facilities that are listed in the bank's agenda.
Premier Banking
Each customer is assigned a dedicated relationship manager to serve any financial requirement.Apart from customized wealth solutions, the performance showcased during the execution of each customer's financial plan is viewed and evaluated regularly. This gifts the user the opportunity to grasp investment opportunities and gain proper guidance as they strive to achieve individual financial goals.
The RMB Wealth Management experts that are hired provide a strong mainland network with allround RMB services. Each expert is attentively stationed at each branch, assisting every customer to grasp the inexhaustible potential of the available versatile RMB products. Furthermore, each premier savings account holder is entitled for a special extra bonus interest rate. A unique 'Infinite Credit Card' is issued which offers customers a unique selection of added benefits.
The convenience that is ensured is never lackluster. Measures are taken to make sure that there is not a single bounce cheque is issued and the expected auto-pay protection is provided accordingly.Additionally, a reward scheme is offered which induces customer engagement with the bank's regular activities and promotions. A bonus points reward programme is implemented where designated products and services grant points for use after consumption. These points can be redeemed to win fabulous rewards. The bank attempts to emphasize the importance of each individual user through a convenient personalization procedure.Exclusive birthday rewards are given to show that every customer is of utmost importance. Every reward is given with the pure intention that it shall permit users to enjoy an unparalleled lifestyle whilst promoting the growth of their individual wealth.
International Project Investments
A Memorandum of Understanding was signed between International Enterprise Singapore and China Construction Bank to collaborate during infrastructure projects  The 'One-Belt, One-Road infrastructure project attempts to create a link between China with economical activities of Africa, Asia and Europe, similarly to the ancient silk roads which operated in the days of old.
Under the MOU, which is the first agreement signed by CCB with a South-East Asian country, S$30 billion of financial services will be provided to support local and Chinese companies in investing in One Belt, One Road projects through Singapore. The bank has 176 major projects in One Belt, One Road countries, with a cumulative investment size of more than S$405 billion covering sectors such as mining, transportation, and power generation.
The primary goal of the partnership between CCB and IE Singapore is to strategically strengthen the critical financing element and bring more projects to fruition Levels of outward investments from China are surpassing foreign direct investments into China, and thus that in relation with the levels of infrastructure required in Southeast Asia, there is tremendous potential to channel part of the outward direct investment into the region.
The next significant project that needs to be addressed is the joint venture conducted by Vontobel and China Construction Bank International Asset Management (CCBIAM) which is a subsidiary of CCB. This is a financial product which enables investors to actively contribute and engage in development of the 'Belt and Road' initiative. The collaboration grants access to CCBIAM's detailed local investment expertise in the Chinese market.
The Belt and Road Initiative (BRI) represents the largest infrastructure and trade project in the world, covering a total of 119 countries and affecting around 65% of the world's population. Over 7,000 infrastructure projects are currently planned which would lead up to 2050. The realization of the BRI requires large investments from various sources of capital. China has already signed cooperation agreements with over 105 countries and provides liquid funds for project financing through its own state banks and fund.
Corporate Social Responsibility
CCB adheres to strategic approaches to utilize financial authority to promote environmental preservation and harmonized development of the society while remaining attentive to the global climate change. Transformation into a 'green bank' has been perceived as the medium and long term business plan. Continuous improvement of green credit policies and institutional mechanisms, readjust the allocation of credit resources, add more bulk and expertise for the management of environmental and social risks, and take social responsibility on mitigating greenhouse gas emissions while promoting sustainable development.
The bank proactively serves the real economy by disseminating its services to small and micro enterprises, innovators, entrepreneurs, irrigational and agricultural sectors. This increased the pace for inclusive financial business strategy execution. Steps were taken to establish an Inclusive Finance Department. An effective development mechanisms to promote operations, management and risk control of the inclusive financial business line is ever present. A scorecard is initiated for small and micro enterprises in the domestic market, breaking through the information and credit 'bottle-necks' in the financial services for small and micro enterprises.
Leveraging on the cusps of its 'new generation' system,CCB takes the lead in realizing data information integration and precise portrait. The bank is the pioneer to prompt "small and micro quick loan" while achieving online financing of the whole process. Loans granted to small and micro enterprises and agriculture related loans was recorded at an aggregate RMB 1.61 trillion and RMB 1.77 trillion respectively by the end of 2017.
International recognition and achievements
Global 2000 listed China Construction Bank as the 2nd rated World Largest Public Company in 2016. Forbs has recognized the bank as the 3rd largest bank in 2017. Currently it has risen through the ranks, standing firmly as the 2nd largest bank by 2019. In addition, the bank was glorified with the 'Best Domestic Bank' of 2017 during the Asiamoney Best Bank awards presentations.