International Medical Education Fair – IMEC 2019
View(s):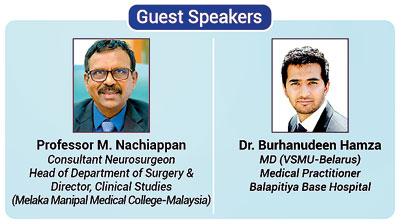 "I want to become a Doctor", a passion instilled in the hearts of youngsters who wishes to pursue a career in the field of Medicine. "Foreign Medical Education is expensive, I can't afford it", "Medical Licensing Examinations are tough, How do I pass? ", "I want to seek for an International career, how is it possible?" are few of the questions growing in the minds of both parents and students. As to what we all understand, this is a common problem, the problem of not being able to collect  valid information and obtain professional advice to follow a stipulated pathway. How do we mitigate this?
We live in a country where Medical Education is made less accessible for students due to the heavy and tough competition in Local Advanced Levels among leading schools in the island, leaving only 12% of students the opportunity to obtain a seat at the Government Medical University Admissions. The second set of Students who follow the London Education systems have no option but to seek opportunities available in the overseas. The trauma of selecting a university is real, mostly because general people tend to lend their opinions without consulting professionals, which could mislead potential candidates into incorrect, confused and problematic pathways.
Even though the system looks complex, it is easy to understand if the right professionals are met. This is where we invite you to be a part of "IMEC 2019- July Edition". Are you planning to become a Medical Doctor, Dentist, Microbiologist, Genetic Engineer, Bio Medical Scientist, or Chiropractor? Or are you still considering your options after A/Level or O/Level exams? Or like many others are you worried about passing A/Levels but not achieving the Z score to make it to the programme of your choice? Or are you simply looking for more information about careers in Medical, Biomedical and Health Care Industry? Don't wait any further. We are ready to help you.
"IMEC 2019 – International Medical Education and Career Fair " is a known Education and Career Fair in Sri Lanka that has been conducting its premium facility of counselling and Admission to  Medical Universities in Sri Lanka and Overseas. The event is organised by IMC Education (http://www.imcedu.com/) Sri Lanka's undisputed leader in Overseas Medical Placements to world's leading Medical Universities across Europe, Eastern Europe and Asia. The event is to take place on the 27th July 2019 at the BMICH (Bandaranaike Memorial International Conference Hall), BCIS Hall – OLYMPUS HALL (Bandaranaike Centre for International Studies) from 10.00 am – 01.00 pm.
What does IMEC 2019 –
July Edition offer you?
IMEC 2019 offers a wonderful platform where you can interact with the universities of your choice and interests. It would be important to know which Education Fair is the right one. There are many fairs that are being organized for more than 15 years and have hosted universities from a lot of countries. But IMEC 2019 is the only Education and Career Fair that focuses on Medical and Science disciplines.
Prospective students and parents have the elite opportunity to collect information from IMEC 2019 from various universities from all over the world since, IMC Education  Facilitates students to select a Medical University to match their Academic and Career aspirations.
Students who fulfil the minimum university entry criteria are given the opportunity to select a suitable university overseas.
IMC has partnered with a consortium of universities across Asia, Europe, Eastern Europe and South America which are recognized and approved by the Sri Lanka Medical Council (SLMC), General Medical Council (GMC – UK), Australian Medical Council (AMC), Educational Commission for Foreign Medical Graduates (ECFMG -USA), Medical Council of India (MCI), Maldivian Medical and Dental Council (MMDC) and also enlisted in the World Directory of Medical Schools (WDOMS) a Medical school database managed by the World Health Organization (WHO).  Each university offers a unique set of career and education experiences at an affordable cost and etc.
IMEC 2019 organized by IMC Education will provide details about all universities parents and students seek to request for.  The fair will mainly consider on the mentioned universities where IMC education has placed the highest number of students in the history and at present. Such as;
[Rigas Stradina University – Latvia | Management Science University (MSU) – Malaysia | Melaka Manipal Medical College (MMMC) – India/ Malaysia |  Newcastle University Medicine (NUmed - UK) – Malaysia (Branch University)| International Medical University (IMU) – Malaysia | MAHSA University – Malaysia | SRM University – India | Kathmandu Medical College (KMC) – Nepal | College of Medical Sciences (CMS) – Nepal | Vitebsk State Medical University (VSMU) – Belarus | Grodno State Medical University (GRSMU) – Belarus | Lincoln American University (LAU) – USA | Deakin University – Australia | James Cook University – Australia | Astrakhan State Medical University (ASMU) – Russia |Dalian State Medical University (DSMU) – China.]
Based on the 1000s of students IMC Education has met, many Medical University applicants want to get in to the most prestigious institution they can. But a university's reputation is no guarantee that it will be the best fit medical university for the student's and parent's sensibilities and aspirations. IMEC 2019 –July Edition will help students and parents to fill these hatches.
Information about university admission after "O-Level results". (Foundation Programs)
Information about university admission after "A-Level results". (MD/MBBS Programs)
Information about University Transfer options. (E.g. Malaysia – Australia and etc.)
Information on Medical Specialization options and International Career.
Information about One Year London A-Levels completion. (Edexcel Syllabus)
Information about world-wide recognized foundation. (Canadian Pre-University)
Information about Scholarship Opportunities. (10,000 USD – 25000USD)
Information about Scholarship Placement examinations. (Up to 75%)
Admission to "Free" Medical Preparation Program conducted by MD Batch Top Graduate.
Virtual Tour for preferred Medical Universities on appointments made through IMEC 2019 at IMC Education Headquarters (154, Thimbirigasyaya Junction, Havelock Road, Colombo 05) and many more.
On top of that all the students will have the privilege of meeting Professor M. Nachiappan
Consultant Neurosurgeon, Head of Department of Surgery & Director, Clinical Studies at Melaka Manipal Medical College in Malaysia. So the students will be able to get first hand information from a veteran professor regarding the academics, clinical studies and the university life at Manipal.
IMC Education being recognized as the Only Accredited Learning Center in Sri-Lanka for Vitebsk State Medical University in Belarus to deliver the Pre-Medical Programs, while holding Official Representative titles at leading Medical university and placing the highest number of students, we assure "IMEC 2019 – July Edition" to support students and parents both academically and non-academically.
With big Dr.eams come big opportunities and International Medical Education and Career Fair (IMEC 2019) is the one-stop destination for unbiased professional education and career advice. Come join the elite team of IMC Education to get professional advice.
To book your seats please do call on the following hotline numbers  +94 77 30 888 40 / +94 77 442 1597 / +94 76 826 8165 or visit IMC Education Headquarters at 154, Thimbirigasyaya Junction, Havelock Road, Colombo 05 for the Virtual University Tour discussion.