Dr. Kithsiri Edirisinghe at IIHS helps propel nursing education to international standards
View(s):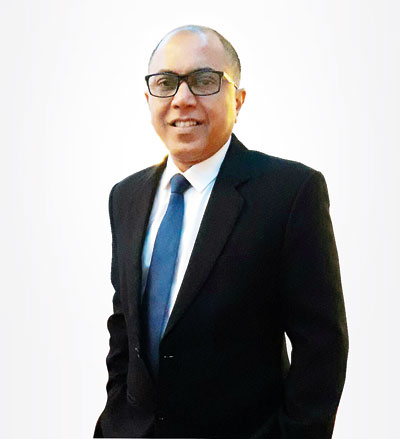 Dr. Kithsiri Edirisinghe (MBBS, MSc, MD (Medical Administration), Founder/ CEO/ Director Academics, Strategy and International Affairs – at the International Institute of Health Sciences has over 26 years' experience in the health industry with extended experience in the education industry.
He is an experienced consultant medical administrator, managing hospitals ranging from rural to teaching and specialized hospitals in the state sector. He has also established and operationalized a chain of hospitals in the private sector. He has extensive experience in the education industry in Sri Lanka and is an Honorary Senior Lecturer for University of Aberdeen, Scotland.
At an interview held recently, Dr. Edirisinghe outlined the emphatic journey IIHS had embarked upon over a decade ago.
Q:  What drove you to begin an initiative such as IIHS?
11 years ago I was a CEO of a large conglomerate and was involved with a hospital project. One of the obstacles or deficiencies that I identified was the lack of well-trained nursing professionals. We looked around and realised that there were hardly any nursing schools in Sri Lanka that offered an international curriculum except one institute in Kandy which has been founded by a group of Sri Lankan expatriates living in USA with the intention of exporting skilled labour. In 2006, I roped them in and managed to get 150 nurses trained. There was a very strong need for this and it became my passionate vision, leading to a major career shift. Initially it was a nonprofit organisation which later I turned into a for profit organisation and registered it under BOI, turning it into a College with a global perspective. Today every country I visit and every professional I meet acknowledges the good work being carried out.
Q: What were the major obstacles you faced in setting up this Institute?
Well we are not simply providing education but were rather providing Healthcare Education which gives way to much red tape and bottle necks. One main obstacle we faced was to obtain the degree awarding status which I must say was expected as only about 15 organizations have been granted the required certification. This obstacle led to us looking for foreign affiliations which granted students global recognition at a particular cost. We created 2 models – the first model enabled students to follow 3 years at IIHS and then subsequently transfer to a foreign university in UK, Australia or Finland for the final year. This meant the students were granted automatic registration and the license to practice in the respective country. This also supported our vision of exporting skilled labour. The second model provides top up programmes and international degrees to health care professionals and teachers who wish to complete the education in Sri Lanka.
Q: Was there a constant demand for trained nurses in the global market?
Yes it was and very much is a line of work that is in demand on a global scale. Even with all the technological development and job automation, Nursing is one occupation that will continue to be in demand for the next 50 years.
Q: How do the nursing professionals benefit from the International curriculum?
When we looked at the current local nursing professionals versus the international ones, we identified gaps in the knowledge component. The current programme in Sri Lanka equips nursing professionals with excellent technical skills and our nurses have the best caring hands for healing but they lack the necessary soft skills and knowledge. That is exactly what the international curriculum offers. Fortunately at IIHS our own curriculum didn't have too many gaps which meant that we were able to collaborate with the respective universities with ease.
Q: How can the local nursing professionals benefit from the IIHS programmes?
In that perspective we looked at upskilling the service levels. We contacted universities in Malaysia and established programmes which enabled us to top up their diploma to a degree qualification and thus giving them an equal footing with World-class nursing professionals. We currently have almost 1200 government nurses in training.
The upskilling helps them in their career growth with salary increments and other tangible benefits. Nursing Clinical Specialisations and technical specialties such as Management, Leadership, Nursing informatics (helping them become IT oriented) and Personality development are inculcated into one programme and thereby the benefits are transferred to the common man.
Q:  What is the current status of the programmes?
We have had over 300 students who have completed the top up from Diploma to Degree status. 50 of  them have secured overseas employment. From the government nursing professionals almost 500 have completed the programme and currently there are about 1400 active students.
Q:  What are the requirements for enrolling for a programme?
In Sri Lanka, we have noticed that in the education arena more doors are being closed these days due to the lack of inclusivity. Our programme has been designed differently allowing a student to enrol with 3 Simple Passes in any stream at A/Ls. Upon enrolment, as a value addition we carry out basic tests for English, Aptitude and Psychometric evaluation. We also carry out a learning style assessment to identify the respective learning style and thus group them together to help them achieve the desired results.
Education delivery -wise we can state that we are leaders as we have a student-centric learning system and we use certain technical facilities such as the No. 01 Learner Management platform in the Commonwealth region for which we were awarded on 2017.
We encourage collaborative learning in a physical and virtual sense and have top class clinical placements with Asiri Group of Hospitals where the students get trained as per International standards. We have high calibre national and international lecturers with easy access to eLearning facilities with our partners. Currently we work with some of the best Universities such as University of Aberdeen, Open University of Malaysia, Deakin University (Australia), Coventry (UK) and Helsinki Metropolia University of Applied Sciences (Finland) and have established with 5 partners and 20 affiliations with over 1600 students.
Q: How does IIHS encourage community engagement?
As an organisation, we have a socialistic mindset and carry out many workshops for over 2500 nurses mainly in Public Relations to inculcate soft skills. We carry out research workshops for practicing and training nurses, and a Learner Management System has been implemented for the state sector nursing schools to enhance quality. Furthermore, frequent workshops on SMART Learning and modern teaching techniques are conducted for the teachers of Sri Lanka.
We constantly encourage students and teachers alike to give back to the society through 14 community projects. This is a key area that we focus on to help with the burning issues in our society. Our teams carry out research on such identified issues and then a project is done to fill the identified gap. All these initiatives are carried out islandwide.
Going back to my vision to transform people, community and landscape through innovation, we constantly strive to transform the professionals and thus bring the benefits to the community through knowledge return and foreign exchange earnings. Accessibility is one area of importance to enable live knowledge sharing. We have 4 centres located in Anuradhapura, Badulla, Kandy and Galle to help government nurses. Currently there are over 100 Maldivian students thus giving us a good footing in the region.
Q:  What are your future expansion plans?
Looking back, initially we were looking at exporting skilled labour as our first phase. Secondly we looked at exporting education via online education 'e-incubator' to deliver programmes to the most needed population in the world through Commonwealth forums. Now we are working towards strategically placing Sri Lanka  in many fields through 'Multiversity' and branching out to other industries.