UCL takes the lead on educating and producing Sri Lanka's future entreprenuers
View(s):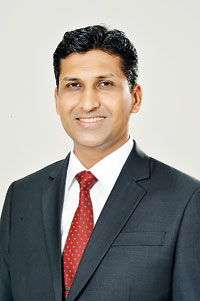 Currently Sri Lanka does not have a university or campus dedicated towards producing the entrepreneurs that will be crucial to the progress of our economy and country in the future.
As such, UCL (Universal College Lanka) who are just completing their 4th year of successful operation, has undertaken the task of teaching entrepreneurship as a key focal point of their higher education curriculum, offering rigorous and targeted programmes and a global perspective to exciting and futuristic careers blended in with a vibrant entrepreneurial learning culture.
UCL is affiliated with the University of Central Lancashire (UCLan) to deliver two of their key programmes that will help foster the learnings required by an entrepreneur. Dr. Dhananjay Kulkarni, Dean of Academic Affairs of UCL outlined "Entrepreneurs are a valuable asset to our country and should be cultivated and nurtured as they have the potential to shape the creation of new businesses and job avenues  that will contribute to the nation's economy. Today's education system is too focused on theoretical concepts and on writing papers and making grades and not maximizing employability and experience. Many top graduates arrive in their first jobs with reams of theoretical knowledge, but no real-life skills, taking an average of 9-12 months to start adding value to the company they work for. Our top universities should prioritize on building up the young pioneer. If we want to spur growth and the creation of new businesses, it's clear we need a greater focus on entrepreneurship and innovation and this starts by nurturing the skills of our young innovators from inception. We hope to foster this through our degrees and change the culture to produce young entrepreneurs and industry leaders."
He further explained "at UCL we dedicate more resources to the formation of entrepreneurial environments that foster progressive ideas and innovation, and equip students with the practical knowledge and skills they need to navigate the choppy waters of business ownership. For instance, entrepreneurs need to have particular skills, such as being great communicators, demonstrate leadership, understand the power of branding and manage cross cultural relationships. They need to have an aptitude for sales and business strategy and know how to keep a handle on their finances and properly manage their logistics, supply chain and distribution. These are aspects that are focused on strongly in the UCLan International Business Degree, along with study topics such as innovation, strategy and entrepreneurship."
"Considering the growing role of ICT in industry and business, the UCLan Software Engineering Degree is most appropriate to cultivate young minds and bring new ideas into reality. It gives a good knowledge of big data analytics, artificial intelligence and blockchain among other technologies, so that our graduates can utilize them to deliver more value to their businesses.
He added "to master the skills needed for creating successful businesses, we ideally, need top industry personnel that include successful entrepreneurs willing to share their experience and insight. At UCL we have several programmes in place where successful business magnates and entrepreneurs are invited to speak to our students on a regular basis in the UCL Talks series. Our Faculty has been very carefully chosen to include those with extensive industry and academic experience of a very high stature, who have good knowledge and track-record in grooming students to be confident and successful. They adopt a teaching style that aims at making students an active element in the learning process, and have delivered top results year on year, where many students scored high marks, and won world prizes. It's been a record to have no failures to date in the UCLan degree programme. "
Speaking about the industry relationships he affimed "Our Industry affiliations are built with care, with the intention of securing the right internships that derive the best value for students to give them opportunities for innovation and leadership.Currently UCL graduates have had a very high industry acceptability with employers and we can confidently say that we can place our students in the top 25 companies in Sri Lanka for internships  upon graduation."
"Our ultimate aim is for UCL to become the best private higher education campus and a breeding ground for future entrepreneurs of Sri Lanka." concluded Dr Dhananjay.
Interested parties can contact UCL on
0763 329 653 or 0774 110 000 or visit the website www.ucl.lk  and drop into our Rajagiriya Campus at 503,
Sri Jayawardanapura Mawatha,
Sri Jayawardanapura.