"Be a medical doctor for a day – Workshop"
View(s):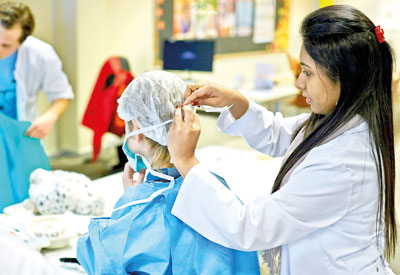 The Fit on Room for your White Coat – 01st of June 2019
Is it possible to transform a dream into a reality? IMC Education answered it, "Yes". With big dreams comes, responsibilities, untiring efforts, countless opportunities and lifetime lessons. If becoming a Doctor is a life winning profession, the incubator for its success is the healing hand of "You" and "I".
Workshop Introduction
"Be a Medical Doctor for a Day Workshop – Medical Career, Lifesaving skills and Personality Development Workshop" is an event specially organized for students after O/L's and A/L's who wishes to pursue their dream of becoming a Medical Doctor. The workshop will take place on the 01st of June 2019 (Saturday) at the Lanka Hospitals Auditorium (9th Floor) from 9.30 am to 01.30 pm. We invite you to learn from the experts to assist you in "Grooming Your Personality" and to "Learn Save Lives" under one Medical roof.
What is covered in the medical workshop?
The core focus of the workshop is to educate participants on three (03) main titles that are commonly experienced by students on the way to achieve a Medical Profession.
MEDICAL CAREER PATHWAY ( High School to Med School to Consultancy)
CPR and FIRST AIDER ( Day to Day Life Saving Skills Demonstration)
PERSONALITY DEVELOPMENT ( Etiquette for Healthcare Professionals)
The event will be completely hoisted by Medical Professionals where we consider that it is a chance for your son/daughter to feel the ambience of a doctor for a day. Students have the opportunity to meet, greet and learn from,
n    Dr. Kanishka De Silva -Consultant – Oncological Surgeon at the Maharagama Cancer Institute.
n    Dr. Burhanudeen Hamza – RHO – Medical Practitioner at the Balapitiya Base Hospital. (Batch Top from Vitebsk State Medical University [Red Degree Holder] and 2017's  Best Top 10 Achiever of ACT 16 examination) Past Student of Lyceum International School – Wattala.
n    Mr. Kumar De Silva – Personality Development and Corporate Etiquette Trainer.
The house of Medical Professionals and Corporate trainer will bring answers for the most brought forward questions in the field of medicine for your son/daughter to learn from,
Dr. Kanishka De Silva who would focus on the,
-  Duration Taken, Efforts put and Experienced gained as a Medical Consultant
-  Specialization Options available?
-  How to identify the specialization which suits you best? Etc.
-  Journey from High School to Med School towards a Consultancy Field.
Dr. Burhanudeen Hamza who would focus on the,
-  CPR Techniques and First Aider Training and Demonstration
-  Life of a Medical Student – AL's to MD.
Mr. Kumar De Silva would focus on ,
-  How to build your image as a Medical Doctor?
-  Means and methods of maintaining Professional Etiquette.
-  Right personality needed for a Medical Doctor. (Many more).
Through the highlights of the event, the participants and parents will be fully acknowledged with a 360° over view with regard to the challenging questions and behaviors when selecting a Medical University and selecting a Medical Doctor as a profession.
Do I get a benefit out of
the workshop?
The students who take part in the workshop will be benefited with a "Certificate of Participation" since most Admissions to Medical Universities highly regard candidates with prior experience at Medical workshops, this indeed adds points for their Academic Involvement and commitment.
IMC Education also provides an arrangement to obtain "Scholarships worth up to 75%" on successful pass out rate through a Placement examination for Pre-Medical programmes. The eligibility for the examination is made free for participants of the workshop.
About the hosts of the
workshop
IMC Education urges the participation of students for "Become a Medical Doctor for a Day Workshop" since it is an artistic form of a gateway to identify a Doctor Dream.  Mostly because IMC Education, Facilitates students to select a Medical University to match their Academic and Career aspirations. Students will be given an opportunity to select a suitable university overseas like in  Asia, Europe, Eastern Europe and South America which are recognised and approved by the Sri Lanka Medical Council (SLMC), General Medical Council (GMC – UK), Australian Medical Council(AMC), Educational Commission for Foreign Medical Graduates (ECFMG -USA), Medical Council of India (MCI), Maldivian Medical and Dental Council (MMDC) and also enlisted in the World Directory of Medical Schools (WDOMS) a Medical school database managed by the World Health Organization (WHO).