Edith Cowan University (ECU Sri Lanka) invites you to make your dream of studying in Australia a reality….
View(s):

Australia is one of the safest countries on the world, with a very friendly population and vast stunning landscapes that showcase the beauty of the continent.It is the top priority of the Australian government to be among the most peaceful countries in the world since Australia not only welcomes professionals from various parts of the world, but also ensures the safety and well-being of each & every one of them.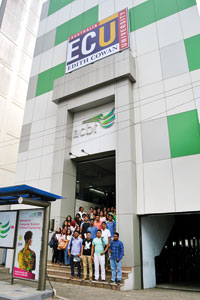 Australia is also among the "Best Study Abroad Destinations"for its excellent education and diversity. This is something every parent today is looking forward to and is something almost impossible to overlook.
The Australian government ensures that the entire student community gets the best facilities with world class colleges & universities around the main cities backed by professional and experienced academics. Also the community is also well looked after by the government with enough employment opportunities for graduates. This is supported by the country's health care sector with ultra-modern facilities and the other communal services with high standards.
Together all above factors have played a major role in making Australia one of the safest countries to study & live.
A Golden Opportunity is now available for the Sri Lankan parents to have their children enrolled with Edith Cowan University (ECU) to study and live in Australia.
ACBT, the pioneer in providing Australian Higher Education together with ECU Sri Lanka invite the students who have passed their O/Level Examination to join ECU University Foundation Programme which will lead to an Australian university degree.
ECUuniversity foundation programmes have four different streams for the students to choose. Namely Business, Engineering Studies, Computing & IT and Health Studies. Depending on the students' preference, they can choose from the above four streams. These different streams have been made available to the students assuring valuable employment opportunities available in Australia.
ECU UniversityFoundation Programme will also allow the students to straightaway enter into the University degree programme without IELTS or any other English language proficiency tests which are usually needed to follow overseas degree programs.
You can call our Hotline 0773 000900 to speak with one of our counselling representatives for further details. You can also visit our campuses located in Colombo, Kandy & Galle cities. Get in touch with us via our email info@acbt.lk or visit our website, "www.acbt.net".