Horizon Campus uses effective intergration of ICT for teaching and learning
View(s):

Information and Communication Technology (ICT) has become an important source of innovation and improvement of efficiency for many sectors across the globe. In the education sector, particularly, the application of ICT has become a critical part of the learning process for university students both outside and inside the classroom setting.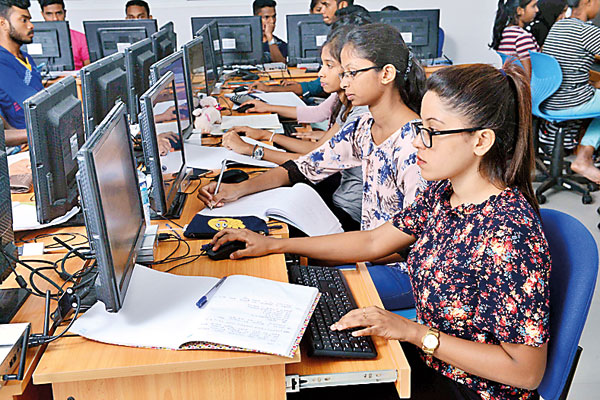 As such Horizon Campus has fully adopted and recorded immense advancement in the application of ICT for the improvement of learning methods, teaching, research, and development.
Dr. Amal Rajapakse, Dean, of the Faculty of IT at Horizon Campus regarding the future trends and the role of ICT in Education, stated that "ICT can be used effectively in a diversity of different ways to improve teaching and learning and enhance the quality of education in several ways. The different ICTs in different forms such as Audio, Video cassettes, Radio and TV Broadcasts, Computers, the Internet and Video clips may be used in the classroom for presentation and demonstration purposes.  ICTs are also transformational tools which, when used appropriately, can promote the shift to a learner-centered environment".
Speaking on the same lines, Dr. Rajapakse stated that as such The Bachelor of Information Technology Degree programmes offered by the Horizon Campus, and the Bachelor of Information Technology (BIT) Degree in collaboration with University of Moratuwa meet the exceptional quality, diversity and innovation to meet the National and Internationals standards currently required by the industry.
"Our well-designed and blended IT curricula instills students with an impressive range of important transferable skills such as entrepreneurship, problem solving, project management, internship experience, and independent research skills and offer students with the flexibility to work across many disciplines that require expertise in a diversity of IT aspects",  elaborated Dr. Rajapakse.
He further explained: "We promote a learning by doing approach, that enables self-paced learning and provides access to wide range of up-to-date learning materials available via Learning Management Systems (LMS). This provides opportunities for teachers and students to store, retrieve, manipulate, and process information, encourage independent and active learning, and self-responsibility for learning such as distance learning while motivating teachers and students in any discipline".
Dr. Rajapakse affirmed "Establishing a skilled ICT workforce is essential to the long term economic stability of the country and can provide Sri Lankan students, recession-resilient employment opportunity by training them on aspects such as the start-ups and entrepreneurship. While incorporating the "values-based education", we at Horizon Campus are provide a modern teaching and learning atmosphere that includes state-of-the-art Virtual Learning Environment coupled with ICT facilities in which students and lecturers interact via computer-based learning tools. This paperless environment allows students to access their learning material from anywhere using an Internet connection".
Dr. Rajapakse also drew attention to a turning point of paramount importance to the 21st Century Learning. He quoted "The materialistic world has made way for a lack of ethical and moral values. Students whilst  learning ICT, Emerging Technology, IOT (Internet of Things), Mobile Computing and Cloud Computing do not show  much ability in  Communication, Collaboration, Creativity, Critical Thinking, and Team Work but rather they are into material comforts, commercialization, and career success, among others".
According to Dr. Rajapakse, the present day student's, both in the schools and universities have no knowledge or idea about the discipline, values, manners, customs and how to behave when dealing with others in their student life as well as in the society. While paying attention for teaching the ICTs and Emerging Technologies, and other 21st Century Learning Skills he emphasised the necessity of teaching students, how to respect themselves, understand their own identity, to respect others, understand their own rights and responsibilities. In short, we need to teach them "values-based education" including our rich cultural and humanistic values – ethical as well as moral in nature, so that we produce good citizens to the society. Hence at Horizon Campus we teach students to think ethically and help them grasp responsible ethical principles to develop and embed moral practices within and beyond the formal educational contexts, thereby blending ICT knowledge backed by ethical values which will play a key role in the future industry" he added.
Interested parties can obtain further information on these degrees by visiting www.horizoncampus.edu.lk or contacting 0716 623 623, 0713 519 999 , 0114 365 555 or visiting the Horizon Campus at Malabe.