"Self-esteem is the building block to Promote Resilience and Mental Health"
Seminar Organized by ANC School of Postgraduate Education
View(s):
ANC School of Postgraduate Education has been conducting a series of events for postgraduate students to stimulate innovative thinking and professional development from its inception in 2012. Extending this effort further, ANC Education hosted a Seminar on "Self Esteem as a Contributing Factor to Resilience and Mental Health" at the ANC Auditorium in March 2019 for the postgraduate students of the MSc Clinical & Health Psychology Master's programme of the University of West London. The event featured one of Sri Lanka's famous Psychologists Ms. Savindi Subasinghe Peiris, a consultant in Psychology at THEME Institute Sri Lanka.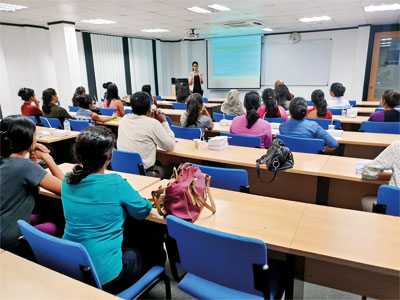 Ms. Savindi Subasinghe Peiris is currently engaged in the research project titled 'Integrating mental health for primary care post-conflict population in Northern Sri Lanka.' She shared her experience in the field of Mental health and provided valuable insights that encouraged in-depth dialogue among the audience on how self-esteem is a contributing factor to mental health. Here is a rundown of some of the key areas discussed at the event:
Self-esteem is made up of the thoughts and opinions we have about ourselves and plays a critical role in almost everything we do. We all share this common phenomenon called self-esteem.  Having healthy self-esteem is really important as it helps make positive choices in life and gives the courage to be who you want to be, nurture good relationships and helps face difficult situations in life.
Low self-esteem can have harmful effects on your mental health, social well-being and ultimately your future. Ms Savindi Subasinghe illustrated that low self-esteem is a result of early childhood experiences such as negligence, abuse and being a victim of bullying or later experiences such as abusive relationships and persisting stress. Self-defeating thoughts and attitudes can be associated with a broad range of mental disorders and social problems, both internalizing problems such as depression, suicidal tendencies, eating disorders and externalizing problems such as violence and substance abuse.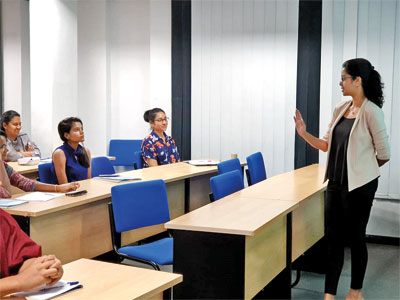 The relationship between self-esteem and resilience is a significant one that shows self-esteem as a protective factor that shields one through its role to buffer against negative influences. It provides the mechanism to increase a sense of control over situations, overcome fear or uncertainty easily. It is seen to actively promote healthy functioning of the mind and body and reflects in life's achievements, success, satisfaction, and the ability to cope with diseases like cancer and heart disease.
In conclusion Self-esteem is a basic feature of mental health and plays a vital role to promote healthy mind, emotions and social health that contributes to the resilience of mental health. A balanced self-esteem is important, an over inflated self-esteem can lead to narcissistic behavior and aggressiveness.
To overcome low self-esteem is to enhance self-acceptance by taking pleasure in your strengths and good qualities, give yourself credit for what you do and forgive yourself for any flaws you may have. Treat yourself with the same respect and kindness that you would give to another person you cared about. These are simple steps that anyone can take to develop positive and healthy self-esteem.
The ANC School of Postgraduate Education teams up with the University of West London (UWL), UK to introduce a globally recognized Master of Science postgraduate qualification in Clinical and Health Psychology to the Sri Lankan education platform. Those with dreams to further their education in the field of Psychology with an aim of global career and higher education opportunities, now have the exclusive opportunity to complete a British qualification from the UWL entirely in Sri Lanka within 12-15 months.
University of West London (UWL) is ranked a Top 50 UK university (Guardian University Guide 2019) and has maintained its standing as the No. 1 Modern University* in London and is placed at No. 4 in London overall. *A modern university is a university created in, or after, 1992. UWL was ranked No.1 modern university in London when compared to all other modern universities ranked in the Guardian University Guide 2019 (GUG). The GUG does not itself rank modern universities separately.
MSc in Clinical & Health Psychology Course Content
Biopsychosocial Issues in Health Psychology (20 credits)
Advanced Psychopathology (20 credits)
Advanced Research Methods 1 (20 credits)
Practice and Professional Issues in Clinical & Health Psychology (20 credits)
Clinical Assessment and Treatment Approaches (20 credits)
Advanced Research methods 2 (20 credits)
Supervised Research Project (60 credits
ASSESSMENTS
Assignments, Examinations, Individual and Group Assessments and Class Discussions
ENTRY CRITERIA
Applicants with Bachelor's Degrees in Psychology from recognized universities
Candidates with related bachelor's degrees from Sociology or Sciences
NEXT ENROLLMENT INTAKE JUNE 2019
The learning experience you gain from our Master of Clinical and Health Psychology goes beyond exam based education as you have the opportunity to engage in case studies and interactive learning with delivered by our highly qualified panel of academics with experience in the clinical field.
At ANC, we also help students take out student loans funded by supportive banks that offer financial solutions tailor made for those who need financial assistance for their studies with Special Discounts for early enrollments. ANC, through its holistic approach to education, will continue to produce enterprising and resourceful graduates who are effective in employment and ready to serve their communities.
Call 0777 237 077 for more information on our June 2019 intakes at ANC School of Postgraduate Education.
No. 308, R.A. De Mel Mawatha, Colombo 3
322, Peradeniya Road, Kandy