Study British Aircraft Maintenance Engineering Degree in Dubai
View(s):

The University of South Wales (USW), UK is a major player in UK Higher Education and has long been renowned for its partnerships with major employers. The University of South Wales , Dubai – a new international campus, opened in 2018 as a part of an exciting development at the heart of the global hub for the Aviation industry.  Based in Dubai South's business district alongside the Al Maktoum International Airport, the campus provides a center for excellence to develop engineering talent and innovation in aviation engineering. They have set up partnerships with aviation companies, training academies and national carriers to provide students with integrated opportunity for training and education, and to make available employment ready graduates.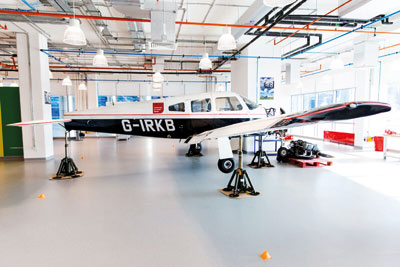 Industrial Partnerships: They've set up partnerships in the region with aviation companies, training academies and national carriers to provide their students with a range of opportunities to undertake on the job training required to satisfy the EASA Part 66 training component of the degree as well as providing internship placement opportunities at approved |Maintenance Repair and Overhaul (MRO) organization. This is in addition to a comprehensive programme of industrial seminars, field trips and invited speaker session.
Professional Development: To help meet the skills demand in the aerospace sector, they work in partnership with organizations to offer staff development opportunities through prior experiential learning.  Aircraft technicians and  Aircraft Maintenance mechanics can convert their technical training a recognized Bachelor Aircraft Maintenance Engineering by having their prior learning and training accredited. This will enable them to complete their degree in one year. This is a cost-efficient way to gain a higher education qualification.
Academic Partnerships: They also work with education institutions and providers, including local colleges, training academies and polytechnics, in an effort to extend learning opportunities to students though progressing to their degree courses. This ensures that the relevant learning with these providers supports entry to one of the degree pathways. Their present industry and academic partners include Kuwait Airways, Jormaco, Falcon Aviation Services, Fujairah Aviation Academy, Royal Air Jordanian Academy and AFAQ Institute of Aviation Technology. They are exploring potential collaborative arrangements with Etihad Airways Engineering, Jet Aviation and many others.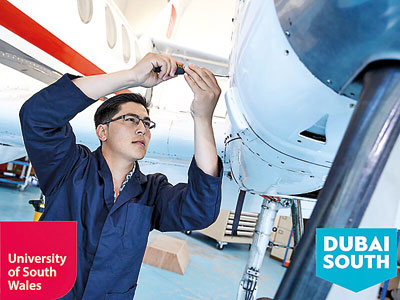 By choosing to study at the University of South Wales Dubai, you can look forward to a fantastic learning experience that combines academic study with practical training using impressive facilities, in a region surrounded by key industry leaders and graduate opportunities. The University of South Wales Dubai also has approved Maintenance Training Organization status from the Civil Aviation Authority (CAA) and in the UAE from the General Civil Aviation Authority (GCAA). Their Aircraft Maintenance course is recognized by the European Aviation Safety Agency ( EASA) . They integrates the industry standard aircraft maintenance qualification 'EASA Part 66" with an honors degree, with on campus delivery.
On completion of the EASA Training, Students are able to obtain full EASA Part – 66 Aircraft Maintenance engineer License in just two Years , Which usually requires 5 years professional experience .
Qualifications delivered at USW Dubai are awarded by the University of South Wales, UK. Certificates and transcripts issued are in the same format as qualifications awarded at our UK campuses giving you the assurance that, upon graduation, you will graduate with a recognized British Bachelor degree.
Interested Students are advised to Contact Country Representative Sri Lanka, Anusha Hewage of WEST 1 UK , on 0776 852323 |
0112 833020 or email
west1intl@eureka.lk.