Young Dinura's battery powered electric cars makes magic at SPARK '18
View(s):

Young Dinura P.K. Gunatilake, a nine year old student, of Royal College Colombo, is a genuine car enthusiast, champion swimmer and 'Karate kid'. He is also a 'dreamer' and young inventor.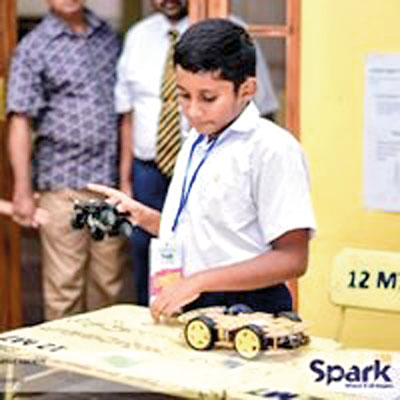 His design of a battery powered electronic car, for the recently held school exhibition, titled SPARK '18, was one among many highlights at the exhibition. Dinura produced two such model cars.
Having engaged the support of his father, Dr. Ishanthe Gunatilake, a past Royalist himself, who supported him to draw the circuit diagram, he made his model dream car a reality, with further technical assistance from school staff members.
Young Dinura received many accolades of praise for his two inventions at the exhibition.
He presented the details of these models with enthusiasm and childlike delight, to respective Chief Guests, Principal of Royal College, B.A. Abeyratne, school officials and visitors who visited his stall with confidence, highlighting his impressive knowledge of cars and their motor mechanism.
Spark'18, showcased more than a 1000 exhibits of young Royalists, who have an abundant of talent, ingenuity and the 'spark' to innovate.