Mamma Mia: Take a bow boys
Continuing from last week an introduction to the cast members of the popular musical to be staged in Colombo
View(s):
Philip Ryan – Sky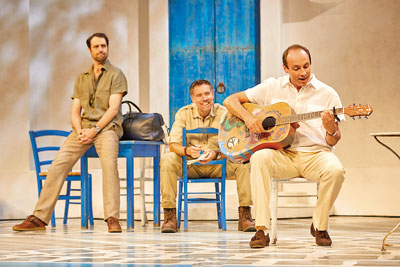 Taking on the role of Sky – Sophie's attractive and athletic fiancé, is budding stage drama and musical actor Philip Ryan. Ryan also appeared in Trainspotting at the Edinburgh Festival.
Matt Jordan-Pidgeon – Pepper
Playing 'Pepper', Sky's charming and flirtatious friend in Mamma Mia! is young actor Matt Jordan-Pidgeon. Matt has appeared in ensemble roles in the popular musicals Cinderella and Peter Pan. The four-time world tap dance champion has also performed as a lead dancer in Lucozade, Ribena, The Arc of Nirvana (Dancers Inc), Dancer Soccer Aid and the Mercedes Benz Show.
Michael Nelson – Eddie
The featured ensemble role of Eddie – another friend and employee of Sky, is played by young actor Michael Nelson. Nelson trained at the Mountview Academy of Theatre Arts and has appeared in Our House, An Evening of Dirty Dancing, The Rink, Get 'Em Off, Alice in Wonderland, Jack and the Beanstalk, Aladdin , and more.
Daniel Crowder – Harry Bright
Taking on the supporting role of Harry Bright – Sophie's potential father, a wealthy, middle-aged man desperately trying to reconnect with his freer, youthful self, Crowder is known for his performances in The Avengers (1998), Ladies of Letters (2009) and Doctors (2000). His theatrical appearances include Neville Island, The Mousetrap, The Postdam Quartet, Way Upstream and numerous others.
Matthew Rutherford – Bill Austin
Playing the role of Bill Austin – Sophie's second potential father and adventurous travel writer, is Matthew Rutherford. He has appeared in stage dramas and musicals such as The Buddy Holly Story, Sweeney Todd, Merrily We Roll Along, The Inland Sea and many more. Rutherford has also appeared in films such as Kingdom of Heaven, Caregiver and Lion of Judah among others.
Tamlyn Henderson – Sam Carmichael
Tamlyn Henderson takes on the supporting principal role of Sam Carmichael – Sophie's third and final potential father. Trained at the Western Australian Academy of Performing Arts, Henderson has played leading roles in several famous stage dramas and musicals such as The Dark Room, Les Misérables Calamity Jane, Wind in the Willows and more.
Tickets for Mamma Mia are priced at Rs 7,500, Rs.10,000, Rs.15,000 & Rs.20,000. For more details or ticket reservations, please contact +94 71 711 8111 or email events@cinnamonhotels.com. Tickets can also be booked online at www.cinnamonboxoffice.com