Axis Mundi : Nihal Senaratne's maiden exhibition
View(s):

Born and raised amidst a lot of hardship, Nihal was the youngest of a family of six kids. With the financial difficulties his family faced he often resorted to reading borrowed 'chithrakatha' papers and tried to replicate the characters from the stories, although he had no formal education in art. That was the begining of Nihal's career in arts and paintings.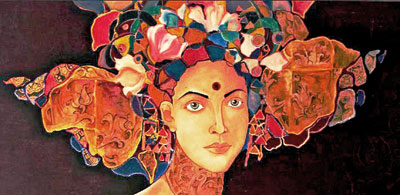 Nihal will be launching his maiden exhibition 'Axis Mundi' showcasing his work which gives definition of deities who have been predefined by history and society. The exhibition opens on November 2ndat the J D A Perera Gallery at 7.00pm and will be open to the public on November 3rd to the 4th from 8.00am to 8.00pm.
As a child Nihal never knew much about his roots, beyond his own parents, and mainly attended school to escape the rough environment at home, but he ended his school career during the JVP riots in 1989 without knowing the direction he would follow. He found employment far away from Colombo, his home town.
He drifted from one job to another to make ends meet, again without much direction, and his passion for art drifted away eventually. But somehow the broken child in him eventually started haunting him, and he took art therapy as a healing exercise, and this is where he was encouraged to start painting and writing.
It was there that Nihal felt the need to acquire a formal education in the fine arts. However he was already in his early 40's which inherently discouraged him to enter an institution. It was during this time that he was introduced to Anoma Wijewardene and got the opportunity to study under her for a short period of time, and it was her passion that encouraged him to pursue what he loved most. And he continued with Anoma's group of students participating in several group exhibitions. He also got to release his first ever short story publication, "In the Corner of My Love Life" with the Equal Ground Organization.
"While I was in the development stage of my paintings trying to figure out how to recreate my imagination, one of my greatest inspirations was Tarot Garden by Niki De Saint Phalle. I try not to follow too many rules or techniques or do any pre-planning and I just let the colour flow through to my paper and canvas and sometimes surprise myself with the final outcome", Nimal added.