Second MBFW 2018: All set to be a week of glamour and innovation
By Sashini Rodrigo
View(s):
Following a highly successful inaugural event last year, the Academy of Design (AOD) and their principal sponsor DIMO Mercedes Benz will present the second Mercedes Benz Fashion Week Sri Lanka, from October 25 – 28 at the Dimo 800 Mercedes-Benz Centre.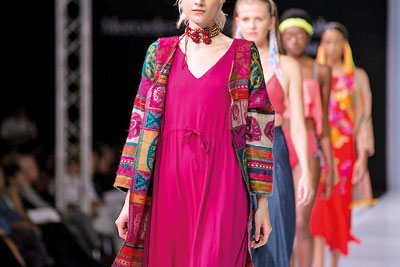 MBFW Festival Director and AOD principal, Karen Macleod says the ultimate goal is to promote Sri Lanka as a hub for the fashion and apparel industries in South Asia, to unite traditional craft with modern trends and high-tech production methods, with a particular focus on sustainability and innovation.
"We have this amazing apparel industry, an amazing craft industry, and we have a design school that fuses it together," she says, highlighting the importance of establishing a bridge between traditional crafts and modern trends and technology to bring Sri Lanka's unique style to the forefront of the fashion and design industry.
The partnership with Mercedes Benz has been ongoing since 2015. Sri Lanka caught their eye as a viable destination for their world renowned Fashion Week through AOD and director and founder Linda Speldewinde's establishment of the Sri Lanka Design Festival – it was felt that local talent, the established industry and contemporary craft deserved international recognition.
Macleod feels that it was a natural progression, and an acknowledgement that Sri Lanka is at an international level with its own offering to the world of fashion. "We've never just been about fashion, it's also about the content of the forums and bringing knowledge to Sri Lanka and sharing what Sri Lanka can do with the world."
This year's theme is Innovation Island, which will be explored and showcased through a series of runways and forums highlighting the importance of keeping the tradition and livelihoods of local artisans thriving by combining it with modern fashion and the design industry.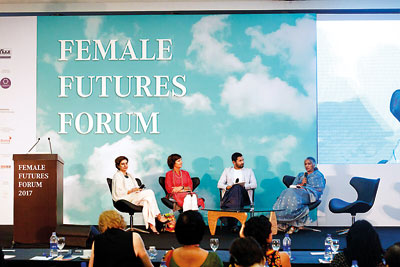 The Emerging Talent Showcase features young designers and graduates, from both local and international design schools, carefully chosen by a panel of international judges. The show will open with ten AOD students and their work on a special heritage project, where they collaborate with local artisans and use batik and handloom.
The SS 2019 Showcase will also highlight the potential of Sri Lanka's contemporary craft industry, as established designer brands fuse traditional craft with their own unique aesthetic in a celebration of local identity through a personal lens.
"We can't just be a design school, we have to be entrepreneurs, we have to be movers and shakers, and we have to create these platforms for our graduates and Sri Lanka," she adds.
The Industry Showcase will highlight Sri Lanka's apparel industry, where sustainability is one of the core objectives.
Complementing the runways are the forums on important aspects and issues of the industry. The Sustainable Fashion Summit, South Asian Apparel Leadership Forum (SAALF), Female Futures Forum and Design Education in the 21st Century forums will bring together a wide spectrum of industry personnel both local and international, to discuss the promising future of Sri Lanka as a fashion and design hub, and to inspire and educate those attending.
The Female Futures Forum in its second year will bring awareness to the challenges women face in the field of fashion and design, and highlight the breakthroughs and achievements of female entrepreneurs and the process of getting there.
This theme of inclusivity and collaboration even goes behind the scenes, as Macleod describes the process of getting AOD students involved in MBFW – actively involved in organising important aspects like hairstyle and makeup coordination, accessories, etc.
It promises to be an exciting week of glamour and innovation.
For more information, including ticketing for after parties, visit their website at www.mbfwsrilanka.com