Shakespeare Centre promotes theatre to youths who sat for Advanced Level
View(s):

Shakespeare Centre, Sri Lanka is ready to present a play under their new education project to identify young talent in theatre and the performing arts. The drama is to be produced by youngsters who have completed their Advanced Level examination. The production will be initiated following a field trip.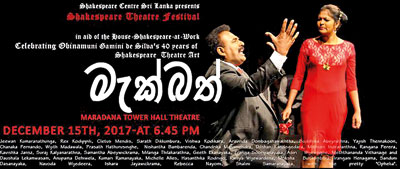 Shakespeare Centre, Sri Lanka is trying to give all the activities including the production, presentation, music direction and script to a selected group of youths after giving them basic training and knowledge about the performing arts.
While providing a good knowledge about advanced theatre in developed countries of the world, they are planning to take the ideas, feelings, problems and solutions of youth through the presentation of this play. This play will be used to present the problems and ideas of youth to the public in a sensitive and artistic manner.
This would be a good opportunity for those young men and women to present their energy, understanding and problems. Those between 13 and 25 years who are interested in studying performing arts are requested to send their applications with personal details before October 25 to Assistant Registrar – Youth Affairs, Shakespeare Centre Sri Lanka, 327, Darley Road, Colombo 10 through normal post. Further details could be obtained by calling on 0778516123 and 0710869964.