A Tribute to Ronnie Leitch – A Legend
View(s):

A humble person in the music field, a comedian, an actor, a versatile singer who could sing in about five languages and an entertainer par excellence who did not go after money.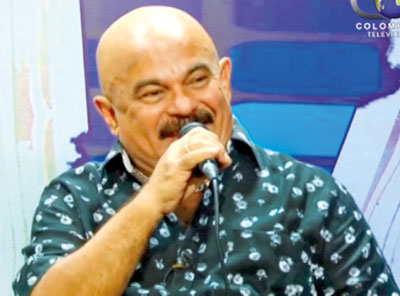 Ronnie is a gentleman, a researcher, who knew all about movie details.
All language film-goer, who never missed any film.
He had helped the Old Thomian Swiming Club(OTSC) in all musical 'happenings' for the past 12 years, especially at the Royal Thomian Big Match in the OTSC Tent with the band 'Wild Flowers'. He was one of the instrumentalists, who made the OTSC a family club. The way he started an event by taking off his hat and mentioning 'Mang Hithuway Mang Witharai Thattayek Kiyala, balang yanakota methana inne Thatta Sansthawak' is unforgettable.
Two months back Ronnie compered and sang at the show 'Events with Friends', which I organized for the first time. It was a sing -along sesion with Annesley. Especially he sang the Sinhala oldies such as 'Swarna vimaneta…', 'Dura penena thanithala….' and 'Kolompure-sriya…' and the way he instructed the band to commence the song in humorous style 'Denna F eken- F for Ronnie'.
The last time I met him was at the late Roy de Silva's book launch event in August and he gave me a lift to his residence and arranged a cab for me to go home. While we were travelling in the car he told me that he came back from Melbourne two days ago, after a string shows and that by the end of next month he would be visiting Perth for a show with Mariazelle.
It's a great loss to all of us and it's sad that only good men passed away so early.
He was a sole hearted person who cared about his family throughout.
Our Heartfelt Condolence to his family.
May His Soul Rest In Peace.
Tusita De Alwis
Former Social Secretary OTSC – 2006/14
Former Vice President OTSC – 2015/16