APIIT Law School – Unique, Modern and Vibrant
View(s):

APIIT Law School, established in collaboration with Staffordshire University, UK, offers an internal British Degree in Law – LLB (Hons) Law.

Following are some of the features of the APIIT Law School that make it unique, modern and vibrant.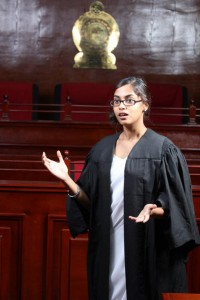 Internal Degree
APIIT Law School offers an internal British Degree in Law. The internal University Degrees are unique and have special characteristics. The quality assurance of internal degrees is not limited to final examinations; rather, quality assurance takes place over the full duration of the course encompassing all aspects such as adequacy of learning resources, competency of lecturers, quality of teaching, level of student support, effectiveness of assessment strategies, etc. Staffordshire University prescribe required standards for all these parameters and monitor the conduct of the degree programmes closely to ensure that the prescribed standards are maintained.
International Standards
Staffordshire University Law School is recognised as one of the best Law Schools in the UK. It was recently awarded top marks by the Quality Assurance Agency and the Solicitors Regulation Authority in the UK as one of the best providers of Legal Studies.
Modern Law School
APIIT Law School is a purpose-built Law School consisting of state-of-the-art learning infrastructure such as a modern moot court, law library, specially designed lecture theatres, small-group tutorial rooms, IT laboratories and other support facilities. It is spacious with 17,000 square feet of floor area and is modelled on leading British Law Schools.
Comprehensive Law Library
A modern Law library is central to legal studies. APIIT Law School library supports not only student learning of various disciplines.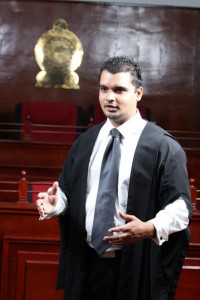 Students are provided with access to renowned electronic libraries and online resources of Staffordshire University.
Moot Court
Moot Court is a unique feature of the APIIT Law School, the first of its kind in Sri Lanka. The Moot Court mimics a real life legal practice environment and allows students to argue hypothetical cases to improve their practice skills. Students will also be provided with opportunities to participate in mooting competitions nationally and internationally.
Language Centre
The aim of the English Language Centre is to provide a comprehensive training in English and help students reach high levels of competence. Computer aided learning packages are used to train students on all aspects of English learning such as listening, reading, comprehension, and writing.
IT Support
APIIT Law School has modern IT infrastructure and computer laboratories. The Law School Computer Laboratories are well-equipped with the latest technologies and provide unlimited internet accessibility through high speed broadband and Wi-Fi connectivity.
Outstanding Panel of Lecturers
APIIT Law School lecturers are highly qualified and competent academics and practising lawyers. The full-time staff supplemented by visiting lecturers who are experts. Further, leading practitioners are invited to conduct seminars/guest lectures on topics of special interest.
Unique Teaching Style
The teaching and learning take place through interactive lectures, small-group tutorial classes and workshops. Although the lectures cover course contents comprehensively, special emphasis is given to small-group tutorials. To facilitate this teaching style, the APIIT Law School has several small tutorial rooms in addition to comfortable lecture theatres.
Skills Training
A unique feature of the Internal LLB (Hons) Law Degree is the 'SKILLS' training programme that takes place throughout the first year. 'SKILLS' training is conducted mostly through workshops and imparts skills such as legal problem solving, legal writing and research, client interviewing, and critical analysis. Consequently, students are equipped with not only subject knowledge but also a wide array of skills to become effective practitioners.
Competitive Fees Structure
In spite of offering an internal LLB (Hons) degree programme from a leading British Law School, providing outstanding resources for teaching and learning, and maintaining international standards of education, APIIT Law School is in a position to maintain student fees at a competitive level.
Choose the Best
Students now have the unique opportunity to read for an internal LLB (Hons) degree from a prestigious British University at the APIIT Law School.
For more information visit APIIT city campus at no. 388, Union Place, Colombo 2 or call 7675100. Register now for the September intake.
comments powered by

Disqus