TEDxColombo 2013: Success, Endurance, Discovery!
View(s):

In a world sworn by the mannerisms of a status quo, the only way to break out would seem to lie in the hands of select individuals who strive to make a difference- a difference that we can all relate to. With an ecstatic new theme this year around going along the footsteps of Success, Endurance & Discovery; TEDxColombo gives you a breath of fresh air and takes you out from the norm and into a world of creative inspiration. With a speaker line-up that includes the likes of several big names, this well-awaited public event undoubtedly holds no possibility to disappoint.

The independently organized TEDxColombo event will be hosted at the Lakshman Kadirgamar Institute (official venue partner) on the 5th of September 2013 at 5:00pm. Tickets are priced at Rs.1000/- (inclusive of refreshments) and can be reserved by calling 0777667527 or 0775073132.

The list of speakers set to take the stage is as follows: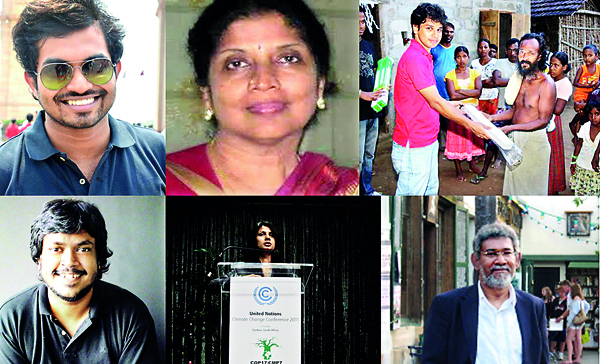 -Anoka Primrose Abeyrathne (Commonwealth Youth Award Winner, Global Changemaker, International Climate Champion)
- Dr. Dayan Jayatilleka (Sri Lankan Ambassador, Writer, Activist, Political Scientist.)
- Shanthi Anusha Sachithanandam (CEO and Founder of Viluthu)
- Sulakshana Senanayake (Global Changemaker, International Climate Champion, Attorney at Law, Activist)
- Asela De Silva (Senior Copywriter – JWT, Cannes Lions Award Winner 2013)
- Imran Basheer (Choreographer, Bollywood, Dancer)
For any further inquiries, get in touch by mailing- tedxcolombo11@gmail.com ;
Visit them on tedxcolombo.wordpress.com ;
or Like them on Facebook at www.facebook.com/TedxColombo
About TEDx, x = independently organized event
In the spirit of "ideas worth spreading," TED has created TEDx. TEDx is a program of local, self-organized events that bring people together to share a TED-like experience. The event is called TEDxColombo, where x = independently organized TED event. At TEDx Colombo, TEDTalks video and live speakers will combine to spark deep discussion and connection in a small group. The TED Conference provides general guidance for the TEDx program, but individual TEDx events, including the one at hand, are self-organized.
About TED
TED is a nonprofit organization devoted to Ideas Worth Spreading. Started as a conference in California 26 years ago, TED has grown to support those world-changing ideas with many initiatives.
At a TED conference, the world's leading thinkers and doers are asked to give the talk of their lives in 18 minutes or less. TED speakers have included Roger Ebert, Sheryl Sandberg, Bill Gates, Elizabeth Gilbert, Benoit Mandelbrot, Philippe Starck, Ngozi Okonjo-Iweala, Brian Greene, Isabel Allende and former UK Prime Minister Gordon Brown. Three major TED events are held each year: The TED Conference takes place every spring in Vancouver, Canada, simultaneous with TEDActive, in Whistler, BC; and the TEDGlobal Conference takes place each summer in Edinburgh, Scotland.
On TED.com, talks from TED conferences are shared with the world for free as TED Talks videos. A new TED Talk is posted every weekday. Through the Open Translation Project, TED Talks are subtitled by volunteers worldwide into more than 90 languages. Through our distribution networks, TED Talks are shared on TV, radio, Netflix and many websites.
The TEDx initiative grants free licenses to people around the world to organize TED-style events in their communities with TED Talks and live speakers. More than 5,000 TEDx events have been held, and selected talks from these events are also turned into TED Talks videos.
The annual TED Prize grants $1 million to an exceptional individual with a wish to change the world. The TED Fellows program helps world-changing innovators from around the globe to become part of the TED community and, with its help, amplify the impact of their remarkable projects and activities. TED-Ed creates short video lessons by pairing master teachers with animators, for use in classroom instruction or independent learning.
comments powered by

Disqus