Schools rugby – have they dropped the standards
View(s):

The rugby last week involved the schools XV a side league as well as Club Sevens. Both events caught the attention and or are attracting notice for reasons of rugby on and off the field. The Sevens saw newcomers Upcountry Lions getting the better of Havelock's Sports Club. The tournament was no thriller nor did it entertain the reasonable crowd present.

The quarterfinalgames in the Cup and thereafter produced some rugby that was worth watching. Other than that the talking point was the manhandling of a referee that stopped the tournament for a period close to an hour. Increasing numbers of teams with 'B' sides was not very helpful for quality sevens. Maybe there should be two leagues so that equals play each other and the spectator gets a better dose of rugby.

The schools league in my observation has not produced rugby as competitive as last year. The reason for my inference is that almost all teams that were in the top division last year have not shown that they are made of winner quality. While we are at the halfway of the league the title is virtually in the hands of two teams who do not have matches that can challenge them. Two of last year's 'B' division sides have done well at the top and challenged the better sides to the last minute. While the club season promises heat for reasons other than for the happening on the field the schools appears to be destined to be another season that will be closed. The only shining light is that the two 'B' sides that have stood out are coached by young locals who are still in the game.

In the midst comes the referee who has stayed where they were in a scenario, where the games have not reached a tempo that makes the referee a scapegoat for a defeat. They have handled all schools games so far despite the limited offer on hand and less pressured by the different seasons for schools and clubs.

In the meantime this column understands that there are talks to bring a foreign referee to handle the school league game between Royal and Trinity. This game is also first leg of the Blue Riband of Sri Lanka schools rugby — 'The Bradby'. The referee for this match should be appointed by the Sri Lanka Society of Rugby Football Referees on the invitation of the Sri Lanka Schools Rugby Football Association. Responsible officials from both associations say that they have not asked for a foreign referee but have heard of attempts being made. Then the question is by whom and who is collaborating. What about 'me' seems to be the question of those who have borne the weight so far and have to do so the rest of the season.

The referee in line is a South African who has a track record of being in the centre for World Cup and other international games. If not it will be another South African is what is being said. With their experience of handling games that have high discipline and skills will he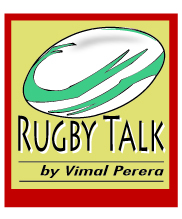 be a square peg in a round hole given the lower skill levels in the game at home. Speaking to Lions and Royals they wonder how the boys will fit to a style of a referee whose expectations and experience is different.
The leaders of the Table Trinity and Dharmaraja consolidated their positions as contenders for the top spot. Trinity on paper seems to be more favoured when you look at the games that are left. On form the only challenge they probably have is Royal. Not because Royal are among the best on the menu but because it is also the first leg of the Bradby. This encounter always has brought the best of the underdogs as though everything has been reserved for the wedding night.
Trinity playing a sloppy game were almost beaten by Wesley and managed to record a victory capitalizing on a dropped pass and 60 meters run for a try. The error by Wesley while being close to the try line cost them the match. Dharmaraja beat St. Peter's in another close game at Bogambara. They played to a pattern which was very much predictable centered on three players. The game was fast and there was a lot of ball in play with Rajans playing hard and maintaining a good level of fitness to stay to the end. Petes played well but did not have the finish of a champion side as they brought pressure on to themselves in their 22 and allowed the Rajans to score. In the second half territory and possession was with Petes who made some clumsy mistakes in the face of a stout defense.
The first four places are two teams that were in 'B' division last year. This scenario leads to assume that the entire so called better 'A' division teams have dropped in their standards. Some may say no it is because these 'B' sides have improved. To me both sides have played hard basic rugby but not reached a level of technical excellence. Look at the last five teams Royal, St. Anthony's, St. Joseph's, Isipathana and Kingswood enjoying themselves in a little league of their own and among equals. Yet all the above 'A' Division sides are well below two of last year's 'B' sides that are enjoying a better league so far.
- Vimal Perera is a former Rugby Referee, coach and Accredited Referees
Evaluator IRB
Follow @timesonlinelk
comments powered by

Disqus