Well known public figure passes away
View(s):

Dr. Dudley Gunasekera

The death occurred this week of a well known public figure of yesteryear, Dr. Dudley Gunasekera, onetime President of the All Ceylon Buddhist Congress, former Chairman of the Paranthan Chemicals Corporation, former Chairman of the Northern Regional Transport Board, an Assistant Commissioner of Labour and former General Manager and Director of the Dasa Group of Companies.Dr. Gunasekera played a pioneering role in the establishment of the Alumni Association of the University of Colombo, and having served as its President, continued to serve as a member of its Executive Committee for over 25 years.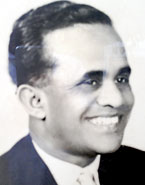 During his tenure in the Colombo University Alumni Association, he was the Chairman of the Hostel Building Committee and was the force behind the construction of a five-storey hostel building for 400 female undergraduate students coming from the provinces. He hailed from a distinguished and affluent family in Ratgama. He was the son of Aires Gunasekera, who made his fortune in the plumbago industry, and Joslin de Silva Karunanayake. His early education was at Dewapathirajah College, Ratgama and his secondary education at Mahinda College, Galle before entering the University of Ceylon.
He leaves his beloved wife Phyllis to whom he was wedded for 63 years and children Dimitri, President of Surplus Garments Inc. in Glen Mills Pennsylvania; Dilini, Cost and Management Accountant in Sydney, Australia; Indi (Priyanthi) Attorney-at-Law, New York; Wijeya, a Marine Engineer in Sydney, Australia and Shivanthi, Consultant in Economics and Finance in Washington D.C., and eight grandchildren and two great grandchildren.
Dr. Gunasekera's funeral took place last morning at the General Cemetery, Colombo.
Follow @timesonlinelk
comments powered by

Disqus