People power saves Dambadeniya era 'Geta Kumbuk' from the electric saw
View(s):

By Malaka Rodrigo

The New Year started with some good news for envirionment lovers, when an ancient Geta Kumbuk tree was saved from the electric saw in Paramulla-Alawwa. The historic tree that was earmarked to be cut down for road widening purposes was spared because of protests by residents, who venerate the tree.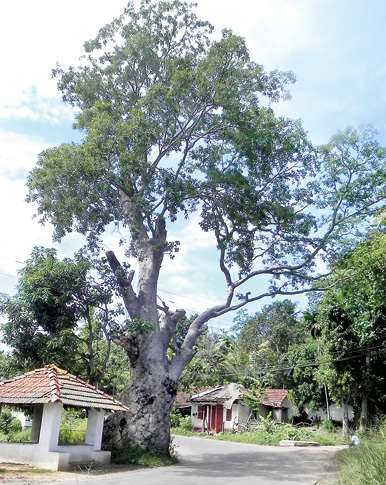 According to Environment Lawyer Jagath Gunawardane, a tree growing in Sri Lanka, native or otherwise, needs only to fulfil one of four criteria, to be considered for legal protection for conservation purposes.
They are; its historical significance, cultural value, social necessity and scientific importance. This tree in Paramulla had a recorded history dating back to the era of the Dambadeniya Kingdom. A historic ambalama, known as the Paramaulla Ambalama stands beside it. Historical records indicate that the tree stood on the bund of the small reservoir, Paramaulla Wewa, which acted as a port for boats to anchor. The tank is now a paddy field and the bund a part of the road.
The tree earned its Sinhala name due to its knotty appearance (geta in Sinhala) at the lower part of the tree. It has a wide girth at the base, about 12 metres in circumference. Scientifically classified as Terminalia arjuna, the tree has medicinal value as well as water purification abilities. It is due to the latter reason that these trees are planted on river banks and reservoir bunds.
The Central Environment Authority (CEA), the police, the Environment Ministry and the Biodiversity Secretariat supported the residents in saving the tree, Mr. Gunawardane said.
The Biodiversity Secretariat has identified at least 40 such historical trees that need to be conserved. Sri Lanka is unique for its historical trees, with the Jaya Sri Mahabodhi, planted in 288 BC, recorded as the oldest living tree.
Follow @timesonlinelk
comments powered by

Disqus